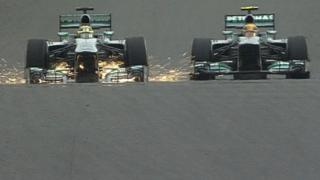 Hamilton frustrated by bad luck
Lewis Hamilton feels the luck was against him after the Mercedes driver finished fifth at the Korean Grand Prix.
Hamilton's race was compromised after having to stay out an extra lap when his team-mate Nico Rosberg suffered a front-wing failure.
Rosberg, who finished seventh, was also disappointed after the failure cost him a place on the podium at the Korea International Circuit.
Available to UK users only.