Kimi Raikkonen joining Ferrari because of money dispute

By Andrew Benson
Chief F1 writer in Singapore
Last updated on .From the section Formula 1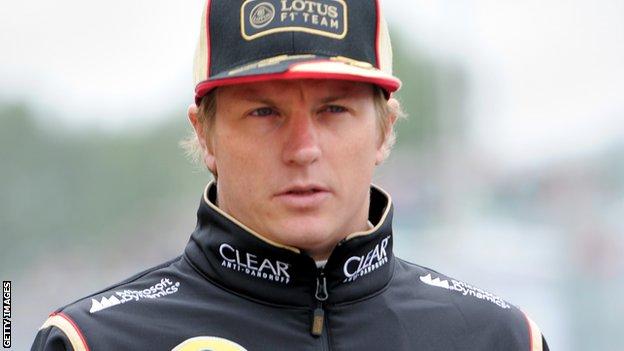 Kimi Raikkonen has said the reason he will leave Lotus and race for Ferrari next year is because he has not been paid by his current team.
"I haven't got my salary," said the former world champion. "I like to race - that's the only reason why I'm here."
Lotus team boss Eric Boullier said: "The truth is, yes, we owe him money. He is going to be paid.
He added: "Last year it was the same. We owed him some money and he got paid in full at the end of the year.
"It is just the way we manage our cash flow. We are not as rich as some of the teams at the front.
"Maybe it is not as sustainable as it should be. We have favoured our people working in Enstone, which is understandable I think. There is nothing else behind this."
Raikkonen said that despite being owed money by the team he would continue to race for Lotus this season.
"It's unfortunate but I want to help the team and I want to win," he added.
Before making his decision to join Ferrari, which was announced last week, to form potentially the strongest driver line-up on the grid, Raikkonen had asked Lotus for reassurances that they had the technical and financial strength to continue to compete at the front next year.
"There were a lot of things and they know what they are. Hard to say how it would have gone if they had done them," he said.
The 33-year-old has not been paid at all so far this season.
As well as his basic salary, he also earns a bonus of 50,000 euros a point and has therefore earned 14.7m euros (£12.6m).
He earned a total of 18.35m euros (£15.8m) last year, when the team were also late in paying him.
There have been claims from former F1 drivers that partnering Raikkonen with Alonso, a double world champion who has led Ferrari for four years, is a potentially explosive mixture.
But both men said they did not foresee any problems.
Raikkonen, who is replacing Brazilian Felipe Massa, said: "I don't see any reason why it wouldn't work. We are old enough to know what we are doing and the team is for sure working for the right things.
"If there is something, I'm sure we can talk it through. It's not like we're 20. I might be wrong but time will tell. For sure there will be good fights on the race track. Sometimes things go wrong, but I'm pretty sure it will be OK.
Alonso said: "The motivation will be always similar. I will do my best all the time. Sometimes you deliver the results people expect; sometimes not. I don't think anyone will push me more than I push now.
"[Having] two world champions - I don't think that makes any difference. It is something you keep writing these days and many people try to say (there will be problems).
"It is exactly the same as when I arrived here with Felipe. [People said], 'Felipe was in Ferrari many years already, and it will be a very difficult relationship'. And after four years he is one of the best friends I have here.
"So for next year it will be the same but it is something probably you will not write.
"Felipe, I consider him like a world champion as well. It is not that one title that will change anything in the relationship or the team in terms of pushing. Felipe was world champion when he crossed the line in 2008, so it is not like he is a rookie driver."
Although Massa has backed Alonso's title campaign at times in the last few seasons, the Spaniard said there would be no change in the team's approach.
"These four years with Ferrari - or with any other team, (such as) when I was with Renault - we start in Australia in the same conditions.
"The cars are the same. We try to score as many points as possible. Sometimes you have better luck, sometimes worse luck and then arrive the final races of the championship.
"Sometimes one of the drivers has been lucky enough to score enough points to fight for the championship and Ferrari try to help that possibility, some other teams they don't try to help that possibility and they lose the championship. Like I was in one of them [at McLaren in 2007].
"It is not that there is a first or second driver, it is the luck of the championship and how it goes one way or another."