Belgian GP: Drivers demand reassurance Pirelli tyres are safe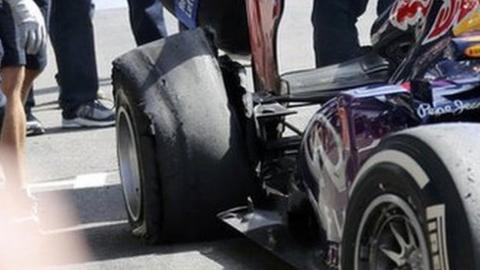 Formula 1 drivers demanded reassurances their tyres are safe following two failures in Belgian GP practice.
Red Bull's Sebastian Vettel and Ferrari's Fernando Alonso suffered right-rear failures in Friday practice.
The drivers asked race director Charlie Whiting for assurances that Pirelli understands the problem. One senior figure described it as a "big concern".
Pirelli's motorsport director Paul Hembery admitted the tyre failures were "a worry for the sport".
He believes the problems were caused by external damage.
Among the drivers concerned about the issue are three-time world champion Vettel and team-mate Mark Webber plus Alonso, McLaren's Jenson Button and Lewis Hamilton of Mercedes.
Webber said the drivers would not accept Hembery's explanation as a reason for the failures.
"We need answers. And 'debris' is not the answer," the Australian said.
One insider said the drivers were "pretty spiky" about the subject. Webber responded: "We're right to be."
And a team principal, who did not wish to be identified, said: "I'd be amazed if we didn't have to respond to some major issue this weekend."
External damage was Pirelli's explanation after a series of failures at June's British Grand Prix, which led to the company changing the design of its tyres for this race.
Spa is one of the fastest circuits on the calendar, with a series of demanding high-speed corners, and any tyre failure could have serious consequences.
The new tyres are of a more robust construction and were designed with the extreme demands of Belgium's Spa-Francorchamps track in mind.
Over a controversial few days following Silverstone, the Grand Prix Drivers' Association (GPDA) threatened to boycott the subsequent German Grand Prix if there were any further problems.
The failures on Vettel and Alonso's cars on Friday happened in the same area of the Spa track, between Turns 13 and 14 - the Fagnes and Stavelot corners.
These follow shortly after the 150mph Pouhon double left-hander, where the right-rear tyre is put under its highest lateral load for several seconds.
Webber said the concern was not just drivers losing control of their cars in the event of a failure, but being hit by debris if closely following a car when its tyre collapsed.
He made a reference to an incident at Silverstone when Alonso had to take avoiding action at 180mph as a tyre failed on Sergio Perez's McLaren.
"We all know Fernando was very lucky at Silverstone," Webber said. "[Being hit by debris from a tyre at high speed] doesn't bear thinking about."
Webber said the forecasted rain for qualifying and the race on Saturday and Sunday could solve the problem. Tyres are not under anywhere near as much stress at the slower speeds in the wet.
Hembery showed the media photographs of the damaged tyres.
He said Pirelli had not discovered the cause yet but he believed Alonso's was caused by something on the track and Vettel's by "something caught between the floor and the tyre".
He said: "It's a worry for the sport because we have to go and find out what it is. We will do our best to identify it and what could be causing it."
Belgian Grand Prix, day two
Saturday 24 August :

Final practice at 09:55 BST on BBC Two, plus live text commentary online. Qualifying at 12:10 BST on BBC One plus live text commentary online
Belgian Grand Prix, day three
Sunday 25 August:

Race coverage at 12:10 BST on BBC One & BBC Red Button at 13:00 BST, Radio 5 live, plus live text commentary online. F1 Forum, 15:15 BBC Red Button (IPTV only). Highlights, 19:00 BBC Three & BBC Red Button