Formula 1 bans TV crews from pit lanes at all race sessions

By Andrew Benson
Chief F1 writer
Last updated on .From the section Formula 1161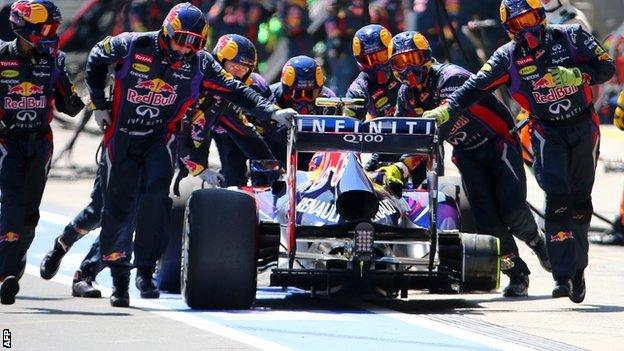 Formula 1 has banned television reporters and cameramen from the pit lane throughout all on-track sessions at grands prix.
Rights holder FOM has told broadcasters that on "safety" grounds it would "no longer allow personnel, including camera crews, pit-lane access during any session".
Written journalists, over whom FOM has no control, will still be permitted.
The move will prevent reporters, such as the BBC's Gary Anderson, Tom Clarkson and Jennie Gow, from reporting from the pit lane during practice sessions, and cameramen from filming at the same time.
But it will not stop other journalists and stills photographers from being in the pit lane during the sessions.
Cameraman Paul Allen suffered a broken collarbone and cracked ribs after being knocked by the wheel. The following day governing body the FIA anyone other than marshals and team personnel from the pit lane during qualifying and the race, with "approved media" to be confined to the pit wall.
The FIA is studying the situation and looking at what the best way to proceed beyond its initial response, imposed as the simplest way to increase safety in the short term.
A senior F1 insider described FOM's decision to ban television companies from the pit lane during practices sessions, when the atmosphere is less frenetic and teams are generally working on their cars only in their garages, as "unnecessary, as long as we do other things as well [to improve safety]".
Meanwhile, the FIA has received a report from Red Bull explaining the cause of the incident which was blamed on human error.
Red Bull said the individual using the wheel gun's finger slipped on to the button he should press to indicate he is finished. That signals to the mechanics operating the jacks that they can lower the car, which triggers the driver to go.
As a consequence of the incident, Red Bull will introduce a safeguard on the technology in an attempt to prevent a repeat. Their report has been circulated to the other teams so they can instigate similar changes if they have similar systems.
The FIA has also introduced rule changes that will require personnel working on a car during a pit stop to wear head protection and reduce the pit lane speed limit from 100km/h (62mph) to 80km/h (49.7mph).