Formula 1: Media banned from pit lanes following safety concerns
Last updated on .From the section Formula 1244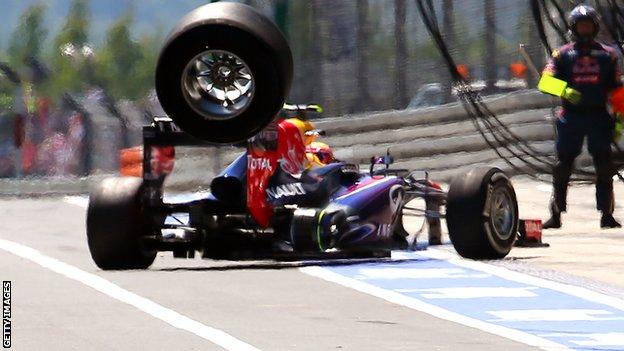 The FIA has banned media and 'non-essential personnel' from Grand Prix pit lanes after a cameraman was injured at last Sunday's German Grand Prix.
The ban, issued by Formula 1's ruling body, covers "anyone other than event marshals and team personnel".
On Monday, F1 boss Bernie Ecclestone said that cameramen would only be allowed to film from the pit lane wall.
Other media will also be kept out of the pit lane, with the FIA saying in a statement: "Access for approved media will be confined to the pit wall."
Sunday's incident occurred as Red Bull driver Webber was leaving the pits following a tyre change that had taken longer than usual.
The Australian was released without the right rear wheel being properly secured and after it came free of the car it bounced into Allen, striking the Briton from behind.
The FIA also announced that it will seek an immediate change to regulations so that all team personnel working on cars during pit stops wear head protection, and that the speed limit in the pits is reduced from 100 kmh to 80 kmh.