Kimi Raikkonen: Lotus move to convince driver not to join Red Bull

By Andrew Benson
Chief F1 writer
Last updated on .From the section Formula 1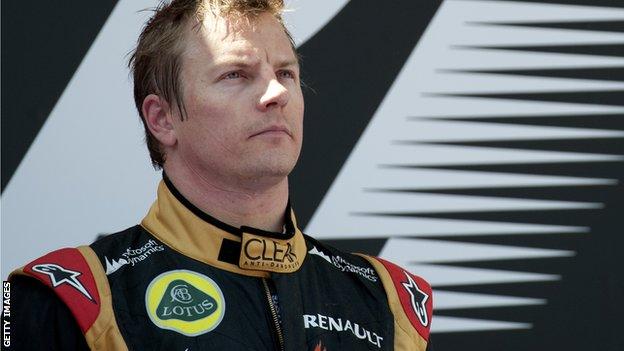 Lotus are trying to convince Kimi Raikkonen he should stay on next season rather than move to Red Bull.
Team boss Eric Boullier told BBC Sport: "Two years in a row we have closed the gap with Red Bull. He wants to know if we will keep going like that.
"We are in discussions about the technical package we'll have."
Boullier said he expected a decision "before August".
"He is mature enough to decide for himself what is the right thing to do," Boullier said. "There are some upsides to going to Red Bull and some downsides as well."
After nine of this season's 19 races, the Finn is third in the championship, 41 points behind Red Bull's Sebastian Vettel and seven adrift of Ferrari's Fernando Alonso.
Moreover, Boullier has to convince Raikkonen that the loss of highly rated technical director James Allison will not harm the team's prospects. Allison is expected to join Ferrari.
Boullier also confirmed that the team had been late in paying Raikkonen his salary, which insiders say had not been paid since the beginning of the year.
"It was paid late, yes," Boullier said. "But it has been paid. We have to if we want to keep him."
Asked if Raikkonen's salary was now up to date, Boullier replied: "Yes."
Red Bull have said they will decide by the end of August whether Raikkonen or Ricciardo would be a better choice to partner world champion Sebastian Vettel.
The other Red Bull junior driver at Toro Rosso, Frenchman Jean-Eric Vergne, is out of contention.
Both choices have pros and cons for the teams.
Raikkonen, as world champion and winner of 20 grands prix, is a known quantity, who is fast and consistent but may not be as engaged technically as Red Bull would like.
Ricciardo has shown promise, with some impressive qualifying performances, but there are questions over his race-craft, consistency and ability to handle the pressure that comes with partnering Vettel and being expected to perform consistently at the front of the field.
Raikkonen has to weigh up the benefits of a potentially faster car against the prospect of taking on Vettel in the same team.
While Lotus want to keep Raikkonen, there are doubts about the future of his team-mate, Franco-Swiss Romain Grosjean, who finished a strong third in Germany but has been inconsistent this year after a crash-strewn debut full season in 2012.
Grosjean's presence brings a guaranteed sponsorship from French oil company Total, reputedly worth around £5m.
German Nico Hulkenberg, whose relationship with his Sauber team has deteriorated since he joined them for this season, is keen to move to Lotus.
Williams driver Pastor Maldonado has also been linked with the team, but Williams sources say there is no way out of his contract.
Maldonado is linked to the team's sponsorship deal with Venezuelan oil giant PDVSA, which is worth £30m a year and runs until the end of 2015.
Japanese former Sauber driver Kamui Kobabayashi, who is racing for Ferrari in sportscars this season after his failure to find an F1 seat, has also been mentioned in connection with Lotus.
McLaren are likely to retain both Jenson Button and Sergio Perez.
Ferrari have to decide whether to retain Felipe Massa, which is the preferred option of president Luca Di Montezemolo.
Massa's prospects have not been improved by four difficult weekends in a row. He crashed in practice at the Monaco, Canadian and British Grands Prix and then spun out of the race in Germany on Sunday during lap four.
Ferrari's list of alternatives includes Hulkenberg, Force India's Paul Di Resta and Marussia's Jules Bianchi.
The reports they are getting from Sauber about Hulkenberg have not been positive, despite the obvious promise he has shown in some races, particularly in leading last year's Brazilian Grand Prix for Force India.
Di Resta is considered an outside bet and while Bianchi, a member of Ferrari's driver academy, has impressed in his debut season, it is hard to judge his ultimate potential.
It would be a risk to throw him in alongside Alonso, who is a commanding figure both in and out of the car.