Formula 1: Ross Brawn planning to stay at Mercedes into 2014

By Andrew Benson
Chief F1 writer
Last updated on .From the section Formula 1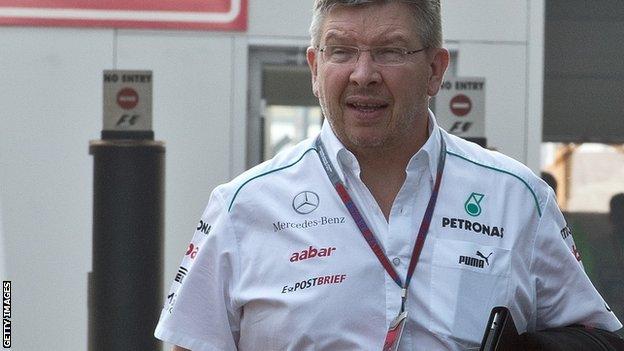 Mercedes team principal Ross Brawn says he wants to stay on into next year.
Brawn said a big change to regulations in 2014 - the introduction of turbo engines with extensive energy recovery - meant he wanted to continue.
"We're in good shape for next year. I wouldn't want to miss the fun," said the 58-year-old.
Toto Wolff was appointed as Mercedes' executive director in January 2013 as part of a team restructure that also saw Lowe brought in.
"This is a big regulation change - and the full package of the car; not just aerodynamics like we've had before," added Brawn, who masterminded Michael Schumacher's seven world titles while at Benetton and Ferrari.
"If you didn't start on it a year ago, you're in trouble."
Sources have said Japanese giant Honda is keen to lure Brawn to take charge of its F1 programme - it is returning to F1 as an engine supplier with McLaren in 2015.
But Brawn, who ran Honda's F1 team from 2007 until the company pulled out at the end of 2008, said: "I don't know anything about that."
When Mercedes employed Lowe last winter, it was in response to the team's dismal performance in the second half of last season and the initial intention was for him to replace Brawn from the start.
But they took a step back from that and have decided not to force him out. Any decision on Brawn's future will now be a joint discussion about a planned and agreed transition into which Brawn has input.
Mercedes believe that the old system of power in an F1 team concentrated in one person is antiquated.
This is illustrated by the job titles given to Lowe and Mercedes head of motorsport Toto Wolff. Lowe is executive director (technical) and Wolff executive director (business) - indicating that they have roles of parallel seniority but dealing with different areas of responsibility.
It is understood that the intention at Mercedes is for Brawn to stay on into next year but not necessarily in his current role.
Discussions about exactly what his role might be and how it will combine with those of Lowe and Wolff are expected to take place over the forthcoming weeks, now that Lowe has been in place for enough time to get a sense of the team's situation.
Lowe said: "Ross is team principal at the moment. We don't know how long he will want to remain team principal. Those plans aren't made.
"I have come in to strengthen the team in its existing form, which I can do.
"There is a great deal to be done and I have already started to augment what we've got. What the future brings in terms of progression from there remains to be seen - it isn't set or defined at the moment.
"If Ross at some point wants to step up to something higher or step back then we will have the strength to react and respond to that and maintain a strong leadership. In the meantime there's a lot to do and I'm very comfortable with that."
Lowe added: "My four weeks in the company have gone very quickly actually. It doesn't seem like four weeks.
"I'm still finding my feet. It took me three weeks to get round and meet everybody. F1 teams are big operations nowadays.
"So I'm still in that process and defining how it settles down in three or four months' time remains to be seen.
"But already I'm involved in some of the key points of strategy that we're developing, as well as diving into detail areas where I can.
"And that's whether it's on the very immediate race activity or looking ahead to what we're doing next year. I haven't focused on anything particular at the moment."
Lowe insisted there was no awkwardness between himself and Brawn considering the background to his employment.
"When I arrived on my first day, the first person to greet me and spend an hour with a cup of coffee was Ross," Lowe said.
"He was genuinely delighted to see my arrival and get me stuck into the business. So that will give you a sign that he isn't threatened by my position. He's very happy that I've joined the company. I'm very happy to work with him."