F1 boss Bernie Ecclestone dismisses talk of boycott

By Andrew Benson
Chief F1 writer
Last updated on .From the section Formula 1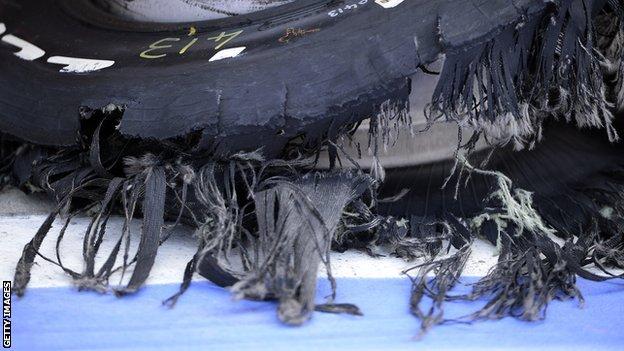 Bernie Ecclestone has dismissed talk of a boycott of Sunday's German Grand Prix as a result of the multiple tyre failures at Silverstone.
After six drivers suffered blowouts during the British Grand Prix, the Formula 1 boss said: "I don't think that will happen. I don't think it's something we need to address."
Ecclestone had agreed with Jean Todt, boss of the FIA, to allow tyre supplier Pirelli to do two three-day tests this week but F1 teams and Pirelli say it is unlikely a test could now take place.
Pirelli said it was still analysing the problems and expected to have a short-term solution for this weekend's race in place by Tuesday.
Ecclestone said there would be no restrictions in terms of the cars Pirelli could use for the test - Mercedes were issued with a reprimand and banned from this month's young driver test for supplying a 2013 car to Pirelli to use in a controversial test in Spain in May.
Pirelli undertook that test because they wanted to find a solution to a series of tyres delaminations - the tread stripping off the carcass - at races earlier this year.
The failures at Silverstone were of a different form - they were deflations, which tore the tyres apart at high speed.
Ecclestone said: "They (Pirelli) have complained in the past when these tyres have delaminated - which is certainly nothing to do with it (what happened yesterday).
"They've said they'd like to sort it out, but they don't have a chance to do any testing because of these silly restrictions we have.
"But I spoke to Jean Todt over the weekend and he has said 'let them test'.
"So he has allowed them to run two three-day tests between now and... well, when they want, to try to do something for next year, as well as this year, so that's exactly what's going to happen."
There were a total of six failures in the race - on Lewis Hamilton's Mercedes, the Ferraris of Felipe Massa and Fernando Alonso, the Toro Rosso of Jean-Eric Vergne, the McLaren of Sergio Perez and Esteban Gutierrez's Sauber.
Perez also had a similar failure in final practice on Saturday morning.
They brought the total number of tyre failures to 21 so far this season after just eight races.
Ecclestone said it was a major concern that needed to be addressed.
"We obviously wish it hadn't happened," he said. "There could have been big accidents in the race, but we have to be careful and know exactly what went wrong before we say anything more.
"One thing for sure is Pirelli don't want problems and would rather there be no troubles.
"So they will have to investigate and see if it was anything to do with the kerbs. Even one or two of the drivers said it might have been the kerbs."
BBC F1 technical analyst Gary Anderson, the former technical director of the Jordan, Stewart and Jaguar teams, said the tyres may have been getting cut as drivers ran over the inside kerbs of the two corners after which the failures occurred.
He added that tyres should be able to withstand the kerb but that the specific construction of the Pirellis might have made them vulnerable.
Former grand prix driver Derek Warwick - president of the British Racing Drivers' Club that owns Silverstone - rejected the idea that the kerbs could be at fault.
"These kerbs have been in since 2009 and we have had thousands and thousands of cars go over these kerbs and they have been absolutely fine," he said.
"We have had them checked by the FIA and they conform fully with the FIA."