British GP: Paul Di Resta happy with climb into the points
Last updated on .From the section Formula 1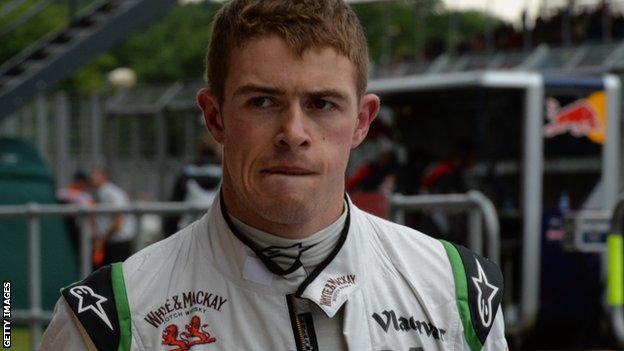 Paul Di Resta was satisfied with the two points he won at the British Grand Prix after fighting his way from near the back of the grid to finish ninth.
But the Scot picked his way through the field and was the second Briton home behind Lewis Hamilton, who was fourth.
"I think we can feel happy with two points. It's good to continue our points run," Di Resta said.
"Towards the end of the race I had fresh tyres, and was closing in on Daniel Ricciardo, but I ran out of laps and he was just out of reach.
"So a weekend of highs and lows, but it's definitely good to have another double points finish for the team."
Di Resta's Force India team-mate Adrian Sutil finished seventh.
Hamilton started on pole but saw his chances of victory in his home race ended on lap eight when he suffered a dramatic tyre blowout - the first of four drivers to do so.
That prompted the safety car to make an appearance, and it was needed again with 10 laps remaining when leader Sebastian Vettel dropped out of the race when his Red Bull suffered gearbox failure.
Jenson Button, 33, was elevated to sixth at that stage as the majority of the frontrunners headed into the pits.
However, the McLaren driver dropped down the order shortly after the race restarted as he struggled to get enough temperature back into his used tyres.
The Briton, who finished 13th, said: "Into the closing laps, I was vulnerable.
"All the cars on fresher tyres were fighting to get past, and as soon as I went offline to defend, it became even more difficult to get temperature back into the tyre."
Despite his disappointing result, Button praised the Silverstone fans, adding: "Every year, their support seems to grow bigger, and their passion for the sport grows deeper - it has been an honour and a privilege to race in front of such an enthusiastic bunch of people."
Button's compatriot Max Chilton, 22, was making his debut in the British Grand Prix and finished 17th in his Marussia.
Chilton said: "It was a day that I will never forget. I was really psyched on the grid and got a great start, which helped.
"It has been an eventful weekend with so many experiences to take away with me."
Lotus driver Kimi Raikkonen, 33, says a wrong decision denied him a podium finish.
When the safety car was deployed for the second time following Vettel's gearbox failure, Mercedes called eventual race winner Nico Rosberg into the pits, while Raikkonen, second at the time, stayed out.
"It was a mistake not to switch to new tyres," said the Finn, who finished fifth.
"I tried to hold on, but with tyres that were maybe 20 laps older than the others it was impossible to keep them behind at the end.
"It's a shame as we had good pace and looked set for a pretty easy P2 but this is racing sometimes."
Toro Rosso's Daniel Ricciardo, 23, bidding to put himself in contention to replace the retiring Mark Webber at Red Bull at the end of the season, finished eighth.
"It is a good result, but I see it as a missed opportunity to score more points," the Australian said.
"We were quicker than the Ferraris so to finish behind them, particularly (Felipe) Massa who had a tyre problem, is a bit disappointing."
Tyre failure plagued Sergio Perez's weekend - one exploded in final practice on Saturday before the McLaren driver had a similar incident in Sunday's race, forcing him to retire.
"This was a big shame for the team - we needed this result," said the 23-year-old.
"My race had been going well. I'd been running inside the top 10 for most of the afternoon when my left rear tyre suddenly exploded. There was nothing I could really do about it. We were just very unlucky."