British GP: Penalty points to be introduced into F1

By Andrew Benson
Chief F1 writer at Silverstone
Last updated on .From the section Formula 1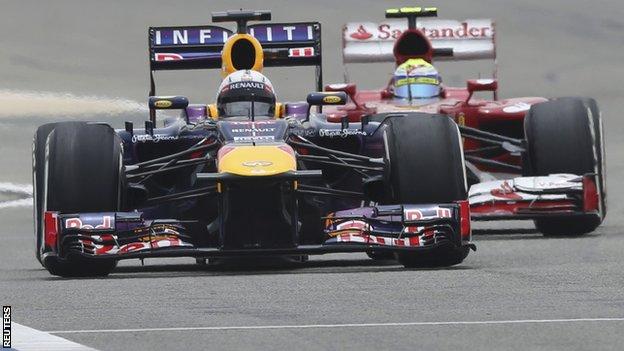 Formula 1 has introduced a penalty-points system that will see drivers banned from a race if they commit too many offences.
Points will be allocated to driving transgressions, such as forcing a rival off the track, and if a driver accumulates 12 he will be banned.
No driver would have suffered a ban had the system been in force in the course of the last season and a half.
Limited in-season testing has also been permitted, among other rule tweaks.
The re-introduction of in-season testing after a ban for the last four seasons will see teams do four two-day tests after selected European races next year.
The final list of testing locations will depend on the F1 calendar, which has not yet been published, but it is currently expected to be after the Spanish, British, Hungarian and Italian Grands Prix.
The testing changes are part of a wider package aimed at reducing costs which includes a "significant" reduction in the amount of aerodynamic testing in both wind tunnels and through computational fluid dynamics.
The four days of aerodynamic tests on straights or constant radius tracks and three days of young driver testing allowed this year have been removed.
And the eight 'promotional' days on control tyres, which teams currently use to test new parts, have been cut to two.
No draft calendar was announced but the season is expected to start in Bahrain on 2 March and could feature 21 races if the new events in Sochi in Russia and New Jersey USA both come off.
The changes were all introduced at a meeting of F1's legislative body, the FIA world council, on Friday.
Among other rule changes were:
- Mercedes will be allowed to supply one more team with engines next season, bringing their total to four.
- Each driver will have an extra set of tyres for use only in the first half hour of first practice to try to ensure teams do more running at that time
- Gearboxes must be used for six consecutive events rather than five
- Drivers may use only five engines per season and using an extra one will mean a pit-lane start