British GP 2013: Max Chilton - Silverstone is buzzing
Last updated on .From the section Formula 115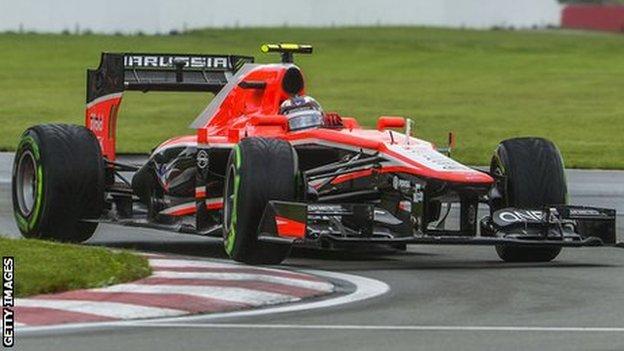 I can't wait for the British Grand Prix on Sunday. It's the one race I've really been looking forward to in my rookie season. Australia was special because it was my first ever grand prix and Monaco was amazing because of the history of the track. But Silverstone is the one I've been waiting for because it's my home race.
Not every driver gets to race in front of their home crowd, so I feel very lucky to have the opportunity. Many of the spectators are campers, who arrive early in the week and create a fantastic atmosphere. The place is already buzzing and it's only Friday.
The support at Silverstone is always terrific and it helps that we have four Brits on the grid this year. When you're driving around here, as I did when I raced in GP2, you can see the Union Flags in the grandstands. It reminds you that this is a very special race.
It's nice to come to a track that I've been to before. I took part in the rookie test at Silverstone in 2012, so I know what to expect. That helps when you're heading into a race weekend, giving you that extra bit of confidence.
Away from the track
We've had a three-week break since the Canadian Grand Prix and it's been really hectic. I was straight back in the gym for training and had plenty of media commitments to keep me busy because it's my home race coming up. I don't mind doing it - it's all part of the job.
I love watching tennis, so it was great that I had the chance to go to Wimbledon this week. I saw Rafael Nadal on Court One and then Andy Murray on Centre Court. The atmosphere was amazing and the support for Andy was huge. I'm sure we'll enjoy the same kind of support at Silverstone.
I've also had a chance to get out on my bike. Living in Surrey, there are some great cycling routes and it's always tough work riding up Box Hill. It's great to have a hobby that I love doing and is also beneficial for my day job.
Home comforts
It's nice to be at home and able to head to the track on Thursday. It gives you that extra bit of time before going to the track for the race weekend. It's great for friends and family to have the chance to come to a race, too, as they're always so supportive during the season.
I drove to the circuit myself from my home in Surrey on Thursday. It's makes a change not to have to commute by plane. I'm staying in a motorhome at the British Racing Drivers' Club farm this weekend. It makes life so much easier being close to the track because you avoid the traffic.
Mid-season report
I'm really enjoying the season so far. I've been with the team for the last three years, which has given me the chance to go to driver briefings and experience what it's like in the paddock. Nothing has come as a surprise. You just have to work really hard.
Not everything has been perfect, but the timesheets don't always tell the full picture. I've always done the job the team wanted me to do and have given them the feedback they needed.
There are things I still have to learn and I'm learning every race. I don't think I've done anything wrong so far. I think I've made a good start to my F1 career and am looking forward to the rest of the season.