British Grand Prix: Fernando Alonso & Ferrari must 'raise game'

By Andrew Benson
Chief F1 writer at Silverstone
Last updated on .From the section Formula 1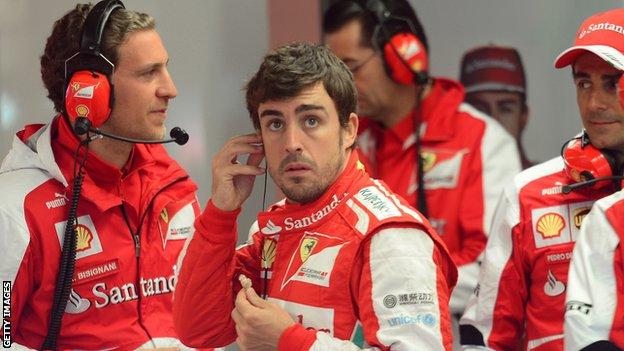 Fernando Alonso says he and his Ferrari team need to "raise our game" if he is to beat Red Bull's Sebastian Vettel to the world title.
The Spaniard is 36 points behind Vettel ahead of this weekend's British Grand Prix - just under half of the margin Alonso has said would be unrecoverable.
Alonso, 31, said: "He is doing a fantastic job - in all the races he has been nearly perfect.
"Red Bull are always improving so we need to raise our game to catch him."
Alonso pointed out his deficit is explained by bad races in Malaysia and Bahrain - he crashed out in Malaysia after damaging his front wing on the back of Vettel's car and finished eighth in Bahrain after his DRS overtaking aid failed.
"I had two unlucky situations in Malaysia and Bahrain," Alonso said.
"Kimi Raikkonen [of Lotus, who is third overall, eight points behind Alonso] was leading the championship or very close and had two unlucky situations in Monaco and Canada. So we need to keep fighting, keep pushing and recover now."
Alonso admitted he and Raikkonen could not afford to have any more races where they do not score big points.
"All races are important from now on," Alonso said. "Especially being 36 points behind the leader, we don't have much room to make mistakes or to lose any more points.
"We need to stay calm. If we can finish in front of Sebastian, great, if not we try to finish as close to him as possible.
"Last year at Monza [in early September] I think I was 40 points or so ahead of Sebastian and it was not enough. And that was Monza. So it is not ideal but it's not the end of the world."
Alonso knows it will be difficult to beat Vettel this weekend at Silverstone, where Red Bull have won three of the last four races.
Vettel won in 2009, team-mate Mark Webber in 2010 and 2012, and Alonso for Ferrari in 2011.
"Red Bull has been dominant here since 2009 so it will be a close weekend," Alonso said. "Mercedes have been strong in qualifying. It is an interesting weekend ahead of us but we approach it with confidence and knowing we have a strong opportunity."
Britain's Lewis Hamilton, who is fourth overall, 55 points behind Vettel, believes he still had a chance of winning the championship.
"Closing that gap won't be easy," the Mercedes driver, 28, said. "Especially with the pace Ferrari and Red Bull have, but I feel positive and I'm going to keep pushing.
"Sebastian is doing a fantastic job and they are going to be difficult to catch but I don't think it's impossible.
"Fernando is a lot closer. Once they sort out their qualifying they will be able to match the Red Bulls if not beat them."