Sebastian Vettel wants input on Mark Webber replacement

By Andrew Benson
Chief F1 writer at Silverstone
Last updated on .From the section Formula 1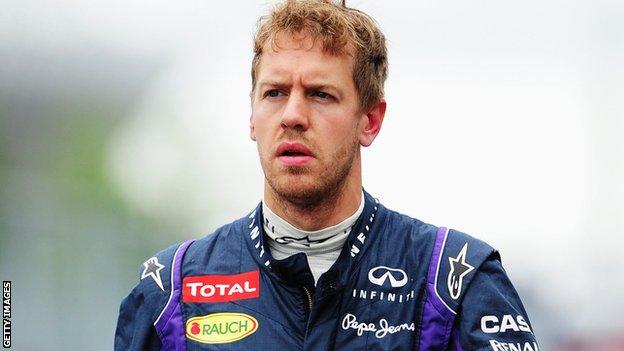 Sebastian Vettel says he would like to be consulted by Red Bull on the identity of his next team-mate.
"It's not my call. Surely we have a good relationship and we will talk about it but we have not discussed it a lot yet," Vettel said.
"I don't expect it. I expect it more when it's about the car than the driver choice. But it would be nice."
Lotus driver Kimi Raikkonen is the favourite to replace Webber, who will retire from Formula 1 at the end of the season, although the team have other options, including their junior drivers in Toro Rosso, Daniel Ricciardo and Jean-Eric Vergne.
Vettel sees Raikkonen socially from time to time but said he had not considered at length the prospect of the Finn being his team-mate.
"I don't know his situation in Lotus but we get along well," Vettel added.
"We have never been team-mates and I am not deciding whether he will be joining the team or not.
"You have to talk to Christian [Horner] as the team principal mostly for that kind of decision.
"It is always difficult to know how a relationship is going to be, but on the other hand it doesn't really matter who your team-mate is going to be.
"When you want to win, you have to beat the rest, whether you have them in your own team or another team."
Asked about the contrast between Raikkonen, a world champion and 20-time winner, and Vergne and Ricciardo, who have never scored a podium finish and have minimal experience, Vettel said: "First of all, I am not someone who decides quickly. I always need some time to think about certain things.
"It would be nice to be part of it (the decision-making process). I don't have to be involved all the way because it's not my business.
"I don't think it's fair on the one hand to say Kimi's name with how many podiums he has and then be talking about Daniel or Jean-Eric, saying they haven't been on the podium yet.
"They have had different careers up to this point. If people ask me, I will think about it."
Vettel said he expected Webber to continue to be a tough rival for the rest of the season.
"Mark is pushing all the time, I am pushing all the time," Vettel said.
"I don't expect the next races to be easier or harder than the last couple of years together with him.
"I have said it many times - I respect him a lot as a driver. I think we have been very successful in Formula 1 together, scoring a lot of points for the team.
"That's what I think we will try to do the last couple of races and individually he is trying to do the best results for him and I'll do the same on my side."