Lewis Hamilton: Best chance to win British Grand Prix

By Andrew Benson
Chief F1 writer
Last updated on .From the section Formula 1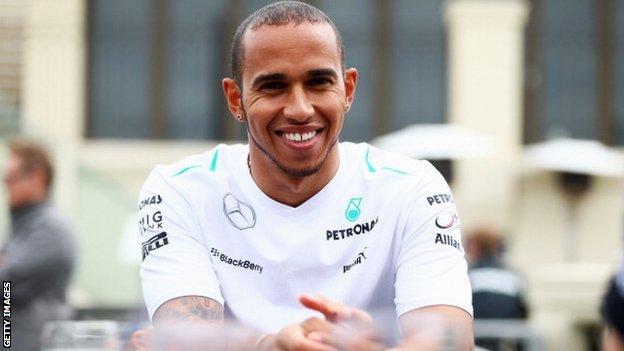 Mercedes driver Lewis Hamilton believes this year is his best chance to win the British Grand Prix for some time.
"It's definitely closer than what I have had for a couple of years," Hamilton said.
"I am looking forward to seeing what the car can do. I think the car will go really well."
The 28-year-old, who won at Silverstone in 2008, said his main concern remained the Mercedes' tendency to wear out its tyres too quickly in a race.
"I definitely feel we'll be competitive through the weekend but I don't know where the time is being lost on Sunday," he said.
Hamilton moved to Mercedes this year from McLaren, for whom he won the British Grand Prix in 2008 and was second in 2010 but could manage only fourth and eighth in the last two seasons.
Mercedes have been on pole four times in seven races this season but have won only once, through Nico Rosberg in Monaco, where the team could use the difficulty in overtaking to control the race and their tyre wear was not such an issue.
Hamilton admitted that Mercedes' race pace at Silverstone was "still an unknown".
"The car feels great generally throughout the weekend. It's just their car (Red Bull and Ferrari) is feeling even better on a Sunday.
"For some reason the Red Bulls and Ferrari seem to have 0.3-0.5secs on long-run pace. I don't know where that is."
He said he believed Mercedes were making some progress with the issue but had not yet solved it.
"I think we've made some small steps just with tyre cooling and brake cooling. I don't think we've made a huge step," he said.
Hamilton said the British Grand Prix was one of his favourite races of the year.
"I am massively excited about it, and really looking forward to it. It's been a bit of a long break since the last race, but the build-up to this one is always the most exciting.
"It's generally the busiest but it's also just great to be here and looking forward to seeing the turnout of fans that we have this weekend."
He said he was disappointed in the decision of governing body the FIA to ban Mercedes from next month's young driver test as punishment for conducting a controversial Pirelli tyre test with a 2013 car last month.
"That does suck a little bit because it is quite an important test for the year - it's the only one really," he said.
"It's important because we had a lot planned, upgrades and stuff, that we were hoping to test on those three days.
"It was also vital for the drivers who are always on the simulator to test the tyres, to know where they are and come back in here and get feedback so they continue working on developments and improving the simulator.
"It definitely puts us back a little bit, but we're going to have to try to figure out a way to recover it elsewhere."