Lewis Hamilton can be a prolific world champion - Nigel Mansell
Last updated on .From the section Formula 1172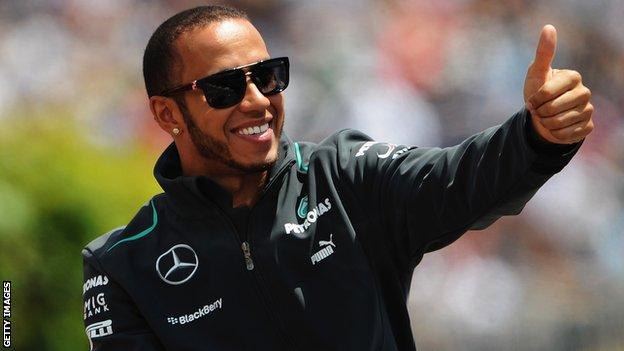 Nigel Mansell has rejected claims that Lewis Hamilton has thrown away his talent and believes the Mercedes driver has every chance of becoming a prolific winner of the world championship.
Damon Hill, the 1996 world champion, said recently that Hamilton, 28, "has all the talent but somehow it's squandered and lost".
But former Williams driver Mansell, 59, said: "I don't go along those lines.
"He has at least 12 years in him and could be a prolific winner."
Mansell added: "I won my world championship when I was 39, so because of the longevity of a race car driver, with all the safety they have, coupled with the commitment and the desire he has, Hamilton can win it again."
Hamilton's only world championship title win came with McLaren in 2008 in his second season in Formula 1.
Since then he has not finished higher than fourth in the end of season standings and he made the move to Mercedes for the start of this campaign, ending a 14-year association with McLaren.
Hamilton has yet to win a race with his new team but has finished on the podium on three occasions and is currently fourth in the championship, 55 points behind leader Sebastian Vettel of Red Bull.
"I think the move he has made to Mercedes is fantastic," Mansell told BBC Sport.
"In time he will get better and better. Once he settles down and gets a season underneath him he will start to absolutely fly and win races.
"When everything comes together he can become a dominant British race driver again."
Hamilton heads to Silverstone this weekend looking to win the British Grand Prix for the second time after triumphing in 2008.
Vettel and Ferrari's Fernando Alonso are favourites to win on Sunday, but Mansell - a four-time winner of the British Grand Prix - believes Hamilton has a chance of winning in front of his home crowd.
He said: "The favourites are obviously Ferrari, who normally go very well at Silverstone, and Red Bull, who are doing an exceedingly good job again.
"But I think Lewis and Mercedes are finding form and he and his teammate Nico Rosberg will be right at the forefront. Lewis has an outside chance of victory.
"The crowd lifts British drivers, they support all British drivers and it is up those drivers to translate that into a bit of speed and commitment in the car and I always found it worked for me."
Hamilton's former teammate Jenson Button is looking for his first British Grand Prix win, but has suggested it will be difficult to achieve that this weekend.
McLaren have been disappointing this season. They are sixth in the drivers' championship and the 33-year-old Button has yet to finish higher than fifth.
"Jenson is a great driver and if you give him the right car and conditions he will fly," said Mansell.
"The whole package has to come together and what people don't realise is that drivers have to put input in that package.
"That is why Lewis and Jenson were a great partnership. Lewis would push all the parameters like there was no tomorrow and Jenson was the steadying factor.
"Between them they could have been unbeatable."