Lewis Hamilton: British GP victory 'almost better' than title win
Last updated on .From the section Formula 1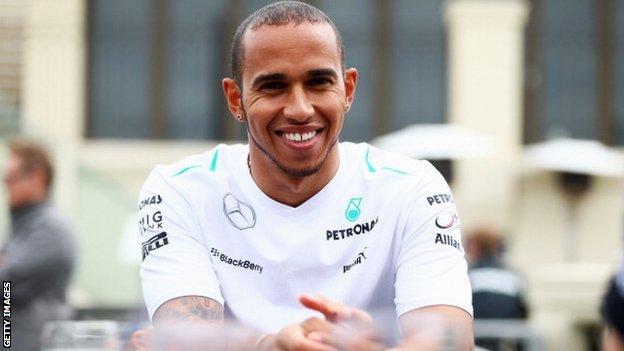 Mercedes driver Lewis Hamilton says victory in his home Grand Prix in 2008 was "almost better" than winning the World Championship.
The 28-year-old Briton's only triumph at Silverstone came in the same year that he won the title with McLaren.
"It was almost better than winning the World Championship just because it's your home grand prix," Hamilton told BBC Radio 5 live ahead of this weekend's British Grand Prix.
"It's the race you dream of winning."
Britain had a home winner in five of the 10 British Grands Prix during the 1990s, with Nigel Mansell (1991 and 1992), Damon Hill (1994), Johnny Herbert (1995) and David Coulthard (1999) all taking the chequered flag.
But in the following 12 seasons, only Coulthard (2000) and Hamilton (2008) have achieved the feat.
At the time, Hamilton described his Silverstone triumph as "the best race I've ever won". The Briton mastered the tricky, wet conditions and his team made the right tactical calls to win the race by a massive one minute and eight seconds from BMW Sauber's Nick Heidfeld.
"[My win] feels like a lifetime ago," added Hamilton, who has scored three podiums this season but has yet to reach the top step.
"The crowd was incredible. It was raining but the fans stuck it out. They got through it with me.
"I've got a painting at home of me coming across the line - it's one of those historic races I'll never forget."
Meanwhile, 1996 world champion Hill says Hamilton, who made his debut in 2007, has failed to realise his potential and "squandered" his talent.
"He is mercurial, got all this talent but somehow it's squandered and lost," Hill told London's Evening Standard. "He's not 30 but he's getting close [28]. The clock is ticking for Lewis.
"I don't want to say Lewis is naive but he has a lot to learn. He genuinely wants to pursue his career in his own way. But the sport that he's in is a very Machiavellian place.
"To succeed in Formula 1 you have to be a bit ruthless, have a focus, and almost a business mindset. Maybe he doesn't want to have that. He wants to get in his car and show what he can do."