British Grand Prix: Can Sebastian Vettel be stopped at Silverstone?

By Andrew Benson
Chief F1 writer
Last updated on .From the section Formula 1157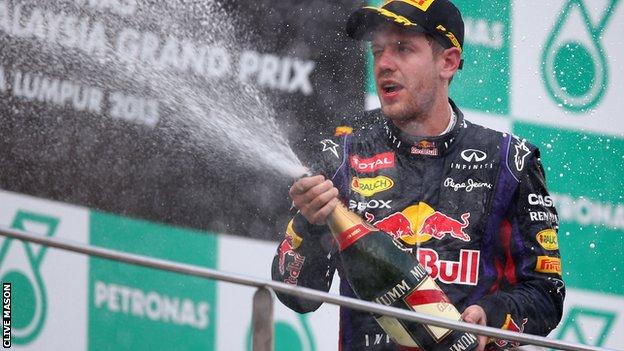 Formula 1 arrives at Silverstone this week for the British Grand Prix at a potential tipping point in the World Championship battle.
Vettel heads into Silverstone with a 36-point lead over Ferrari's Fernando Alonso, with Lotus's Kimi Raikkonen a further eight points adrift, and Mercedes driver Lewis Hamilton nine points back from the Finn.
In results terms, Vettel's advantage means Alonso would need a win and a fourth place with the German not scoring to overtake him.
In F1's previous scoring system, which was replaced as recently as the end of 2009, the margin is 'only' 13 points. Put it like that and it hardly sounds insurmountable. On the other hand, it is already nearly halfway to the 75-point margin that Alonso describes as the point of no return. And after only seven of the 19 races.
The problem for Alonso, Raikkonen et al is not just Vettel's speed - they have proved they can beat him from time to time - but his consistency. He has finished every race this year, only twice not been on the podium, and never been lower than fourth.
And even worse for them than that, he has to be considered one of the favourites for victory in Silverstone this weekend - if not the favourite.
The last four British Grands Prix have been won by three drivers - Vettel and Alonso once and the other Red Bull driver, Mark Webber, twice. Wet or dry, it is hard to look past these three men as the most likely winners on Sunday.
Silverstone is lauded by the drivers as a unique challenge. Its exhilarating sweep through the super-fast combination of corners at Copse-Maggotts-Becketts-Chapel is a test so demanding that only two other circuits can compare: Spa and Suzuka.
There are very few places better on earth to appreciate the awesome capabilities of a grand prix car than to stand on the spectator bank at the entry to Becketts.
These corners, and the long, medium-speed bends that abound on the bleak Northamptonshire plateau, are a test for the cars as well as the drivers. They put a premium on aerodynamic efficiency. In that, Red Bull are kings.
The hope for the rest is that those type of corners are also the ones that put most load into the tyres, and Red Bull have proven harder on their tyres than Ferrari and Lotus.
The track most like Silverstone of those so far this season is Spain's Circuit de Catalunya, where Vettel could finish only fourth as Alonso and Raikkonen took first and second places and the other Ferrari of Felipe Massa filled the other slot on the podium.
Red Bull, though, say they believe they have made progress understanding the tyres since then.
"Malaysia also had very quick corners and we were strong there," team boss Christian Horner said after Vettel's crushing victory in Canada, "so I think we have understood some of the issues we have had in Barcelona, and hopefully we can carry this form into the next few races."
Alonso and Raikkonen will be heading into this weekend hoping against hope they can prove Horner wrong.
Tyres will also be at the forefront of the minds of the Mercedes team - but for the opposite reason from Ferrari and Lotus.
This time last week, there was some doubt that Mercedes would even be at Silverstone, with the FIA hearing into their illegal Pirelli tyre test looming.
The decision of the international tribunal to issue Mercedes with a reprimand and ban them from next month's young driver test, despite being found guilty of breaking three separate rules, will undoubtedly be the subject of fevered discussion when the F1 circus arrives at Silverstone on Thursday. Already Ferrari have made it clear they are not happy.
At Mercedes, they will be more concerned about what happens on the track - and whether they can end their current practice of qualifying at the front and slipping backwards in the race.
This happens because the car eats up its rear tyres, and Silverstone could hardly be worse for them. One team insider admitted in Canada that he was "bricking himself" about the race for that reason, so it seems fair to suggest that Hamilton and Nico Rosberg can expect more of the same.
Mercedes may well lock out the front of the grid - and Hamilton will be desperate to continue on home ground the form he showed in Canada in ending Rosberg's run of beating him three times in a row - but no-one will expect them to win.
For Lotus, meanwhile, it is a very important weekend. They are introducing an upgrade package that they describe as their biggest of the year - and the sense is they need it.
After a sparkling start to the season, Raikkonen has been only the fifth highest scorer in the last four races, and scoring only three points over the last two in Monaco and Canada has hit him particularly hard.
Behind the big four, Force India have been doing an excellent job so far this season racking up decent points at most races, and in the process humbling mighty McLaren, above whom - remarkably - they sit in the constructors' championship.
McLaren expect a better weekend than their nightmarish event in Canada, when they failed to score any points at all for the first time in 66 races. But no-one there is under any illusions that Jenson Button or Sergio Perez will be standing on top of the podium on Sunday afternoon, barring some form of miraculously unpredictable set of circumstances.
In fact, with Button in the doldrums and Hamilton's best chance for glory in qualifying on Saturday, Paul Di Resta aiming for around sixth place or so in the Force India and Max Chilton battling gamely at the back in the Marussia in his debut season, there is almost no chance of a home victory.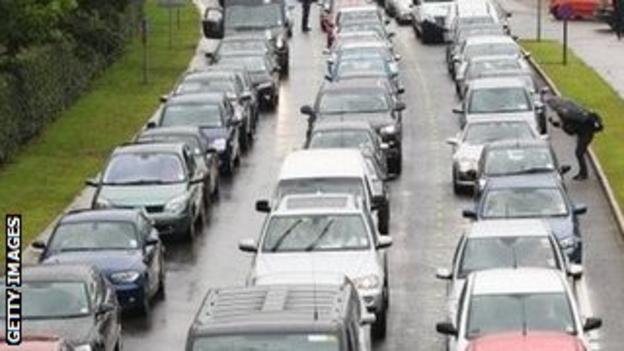 This has been said to be one of the reasons why this year's event is not a sell-out - with blame also apportioned on the troubles of last year, when 30,000 fans were told not to turn up for qualifying day after heavy rain led to waterlogged car parks and horrendous traffic jams that revived memories of the bad old days at the track.
It's true that not all tickets have yet been sold, but Silverstone will nevertheless be playing host this weekend to the third biggest crowd in British Grand Prix history, with about 300,000 expected over the three days and pushing 130,000 on Sunday.
Those numbers are testament to the British fans, whose enthusiasm and commitment was demonstrated all too clearly last year when, despite the warnings, 90,000 still turned up to watch qualifying.
They sat uncomplainingly in atrocious conditions and were rewarded with an action-packed qualifying session in which Alonso took pole from the two Red Bulls.
Those attending this year can expect a much more pleasant experience, with predictions of a warm and sunny weekend ahead.
In those conditions, the British Grand Prix is one of the highlights of the entire season - as even the non-natives will attest.
"In Silverstone we will try again," said Alonso after being beaten into second by Vettel in Canada. "It is one of the best weekends so far this year. Hopefully the weather will stay good, not only for us but the huge amount of fans there. We need to put on a good show for everyone."
That can be taken almost as read - even if the show might not end with the winner the fans want.