The race never ends in Formula 1 for Lotus, Force India & Caterham
By Lawrence Barretto
BBC Sport
Last updated on .From the section Formula 1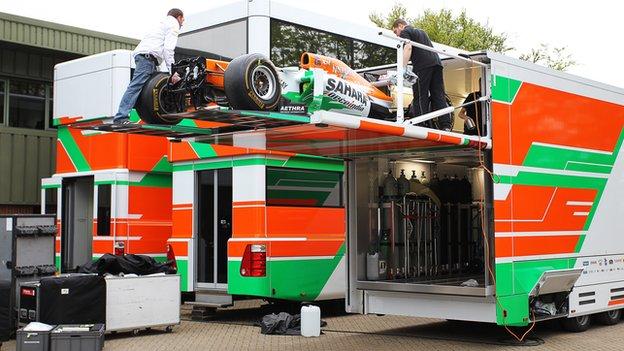 When Sebastian Vettel crossed the line to win the Canadian Grand Prix earlier this month, another crucial race began.
Roughly 30 tonnes of temporary infrastructure, built for the race by the teams, had to be dismantled and boxed.
The teams then began packing for this weekend's British Grand Prix, where they will take an additional five to 10 tonnes of gear.
And that's just one race in the Formula 1 World Championship season, which takes in 19 countries, across five continents, over eight months, covering 160,000km - the equivalent of four trips around the world.
BBC Sport takes a look at how the teams make their British Grand Prix happen...
When do the teams start planning for Silverstone?
As soon as the race calendar is confirmed, normally around December, teams start drawing up a schedule for the year. "We know then when the trucks will all be sent out for each race," Lotus team co-ordinator Geoff Simmonds told BBC Sport.
For Force India, who are based just over the road from Silverstone, planning begins around a month before. "As it's only next door, not too much planning is needed," race team co-ordinator Franco Massaro said.
What needs to be done?
Caterham say they need the garage and hospitality unit ready by the end of the Tuesday before the race. Each team has an allocated space in the paddock, which is ordered depending on their placing in last year's constructors' championship.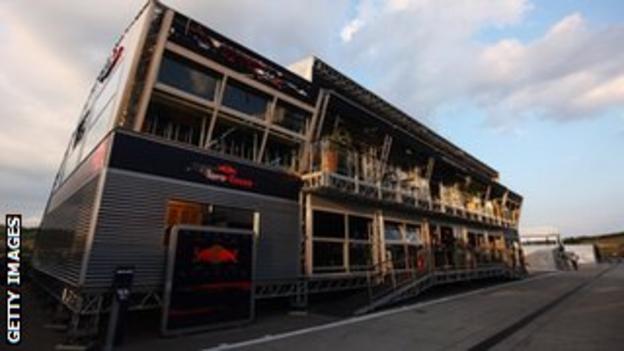 The bigger, more successful teams, such as Red Bull, Ferrari, McLaren, Lotus and Mercedes, are given more space for motorhomes, and so their construction is larger. Lotus, for instance, have a deadline of Wednesday evening for everything to be up and working.
That allows the management, engineers, mechanics and other staff to get down to work first thing on Thursday morning.
Many of the teams are based near Silverstone, and the logistics differ according to where the race is taking place.
Outside of Europe, at the 'flyaway' races - so-called because the travel distance requires equipment to be flown to the venue rather than transported by road - the teams have purpose-built facilities or temporary units to base themselves, host guests and conduct meetings.
But for European races, the teams bring their own motorhomes and flat-pack hospitality units, which need to be unpacked and set up.
How much gear does each team have?
The teams are completely self-sufficient, so need around 90 containers to hold everything from the cars, with their parts and spares, to their own bottles of water, fridges, own power sources and temporary walls for building their motorhomes.
Caterham will employ two chefs, three hostesses, one kitchen assistant and two full-time motorhome managers to ensure the team and their guests are catered for.
Force India serve around 1,040 meals per race, which works out at 19,760 a year. That would be enough to feed a single person with three square meals for 18 years.
And then there are the cars. The front and rear wings, steering wheels, rear view mirrors and sidepods are removed before being placed in the truck for transporting.
The bottom and sides of the car are encased in wooden panels, while a bumper at the rear protects the gearbox. A specially designed cover protects the steering elements and front of the chassis.
How do they transport it?
For overseas races, the team have between three and five 40-foot sea containers which make their way round the world according to the Grand Prix calendar. Each container will hold items such as cabling, garage banners and shelving units. They will be shipped approximately two months before the race.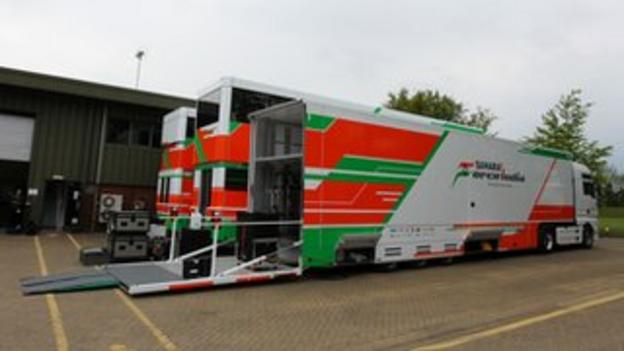 "We use sea freight to keep costs down," added Massaro. "They will hold things which you could maybe survive without if you had to."
Equipment will also travel by air for the 'flyaway' races. But for Silverstone, between five and 15 trucks are required to transport everything - as it's cheaper to transport equipment by road rather than air. Three of those trucks - one of which will transport the cars and the spare chassis - are required to be parked up in the paddock.
When does work start and how many people are involved?
Lotus send out a crew of seven people on Saturday evening who are responsible for laying a 'footprint' of the motorhome - which requires five transporters of equipment.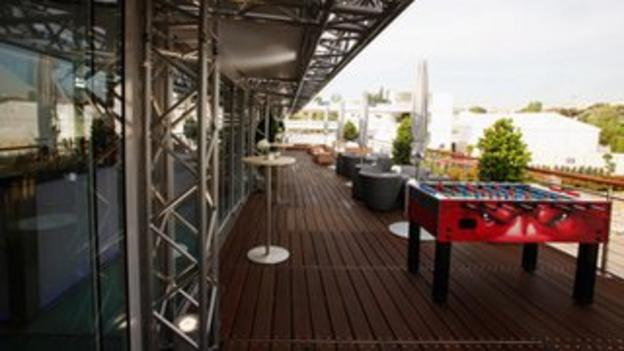 "A further 20 will arrive during Monday to start work on the garage installation," said Simmonds. "I'll do a garage plan - which I'll create once I've know which garages we've got and how big they are. The garage needs to be ready by Tuesday morning when the IT and electronics people come in to finalise everything."
Caterham have a crew of 12 people who are responsible for building and taking down the flat-pack unit which will be the team's temporary home for the weekend. It takes the team 24 hours to build it, but just 11 to dismantle and re-pack ready for the next race.
Red Bull's Energy Station, which they share with Toro Rosso, is a much bigger affair, and requires 30 people and two days to build. When finished, it features three levels, with the middle floor stretching 400 square metres.
There's a bar, kitchen, plenty of seating both inside and out on a balcony, table football plus meeting rooms and the drivers' personal spaces.
When do they start taking it all down again?
"If we're lucky, the boss will let us take a few things down before the race finishes," said Simmonds. "Being Silverstone, people want to take the rare opportunity to get home as quickly as possible, especially with this race being back-to-back with Germany.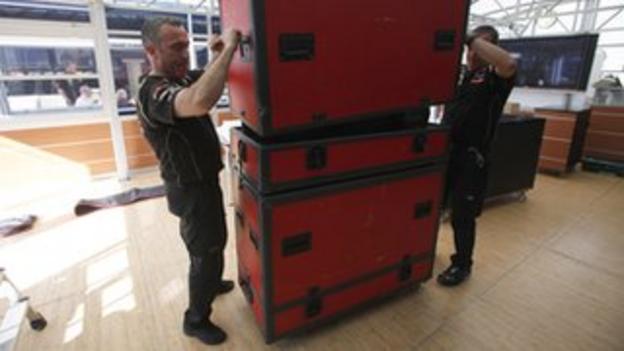 "We hope to have trucks on the road at 2300 BST on Sunday night, so that means finishing by around 2130. There's a lot of pressure on the race base and motorhome [workers] as they have got to get those parts packed down and sent to Germany in time to have it up and ready by Wednesday night.
"So we operate a triple crew, with one packing down the motorhome, the other the race base and the other driving the trucks to Germany. The first two crews will then get some sleep on Monday before flying out later that evening to start work in the early hours of Tuesday morning."
So effectively, the teams will have about eight hours - the amount of time you're likely to sleep tonight - between packing the final part away and leaving Silverstone to arriving at the Nurburgring and unloading the first item.
In Formula 1, it seems, you're always up against the clock.