Lotus criticise Pirelli over 'very conservative' tyre choices

By Andrew Benson
Chief F1 writer
Last updated on .From the section Formula 1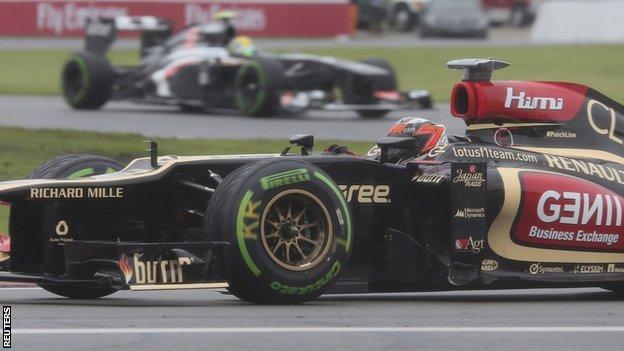 Lotus have accused Pirelli of making overly conservative tyre choices for two of the next three races.
Tyres have become a hugely contentious issue this season, with some teams lobbying Pirelli to use harder ones.
Lotus's Alan Permane said the decision to take the medium and hard tyres to Hungary was "very conservative".
But Pirelli motorsport director Paul Hembery said: "The tyres are more aggressive this year. They've all got the same - get on with it."
Red Bull and Mercedes have cars that are harder on their tyres.
"It's unusual to take the same tyres to Hungary as to Bahrain and Silverstone," Permane said.
"We didn't have those tyres last year. We had medium and soft last year and people did two stops. So it absolutely doesn't make sense - they're too hard for that track."
Pirelli made changes to all four of its tyres - 'hard', 'medium', 'soft' and 'super-soft' - this year in an attempt to promote more pit stops after admitting it had chosen tyres that were too conservative in the last third of 2012.
But the decision led to criticism from world champions Red Bull, who said the tyres were too soft and were preventing the drivers from pushing to the limit.
Mercedes, who are struggling with excessive rear tyre usage, have also lobbied for more conservative choices.
In contrast, Lotus, Ferrari and Force India have cars that are easier on the tyres and feel there is nothing wrong with the choices Pirelli has made so far this season.
Pirelli took the 'soft' and 'hard' tyres to the British race last year, but have chosen the 'medium' and the 'hard' for this year's event on 28-30 June.
Permane added: "They went softer to try to encourage more pit stops. There's no point in them going softer with the tyres if they're just going to take different harder tyres everywhere.
"This is exactly what they did in the last few races of last year. They brought harder and harder tyres and we just ended up doing one stop.
"And last year they said they didn't want to interfere in the championship so they took conservative tyres, but I never really understood what that meant."
Lotus team boss Eric Boullier is expected to raise the issue with Pirelli.
BBC Sport understands at least one other top team also have concerns about the choice of the 'medium' and the 'hard' tyres for Hungary.
A Pirelli spokesperson added: "The compound choices are made taking into account the data available, in particular track characteristics and expected weather conditions, in order to stay in the window of two to three pit stops."
For the German Grand Prix, following Silverstone, the medium and soft tyres will be available, and in Hungary at the end of July the hard and medium again.
Pirelli has made a more conservative choice on tyre compounds than last year in both Britain and Hungary - last year the hard and the soft were used in Britain and the medium and the soft in Hungary.
This year's tyres are all approximately one grade softer than last year's - so this year's hard is effectively last year's medium in terms of rubber compound, and so on.