British Grand Prix: Hill wins 1994 race after Schumacher's black flag

By Murray Walker
Formula 1 Analyst, BBC Sport
Last updated on .From the section Formula 181
Legendary F1 commentator Murray Walker will be providing a series of archive-based videos and written articles for every race of the 2013 season.
'Murray's Memories' are his personal recollections of some of the most dramatic moments in the history of F1 - the eighth in the series is the 1994 British Grand Prix, with this year's race taking place at the weekend.
I began my commentary career at Silverstone, back in 1949 and have been to every British Grand Prix since then.
There have been many memorable races over the years at Silverstone, but also at the other tracks that have hosted the race such as Brands Hatch and Aintree.
Some of them have been all-time classics - close fights between drivers, timeless victories in the wet and so on - but when I think back one really sticks in my memory, for the controversy more than anything else.
Following Ayrton Senna's death at the San Marino Grand Prix, the 1994 F1 season broke out into one of bitter dispute - and it really erupted at the British Grand Prix.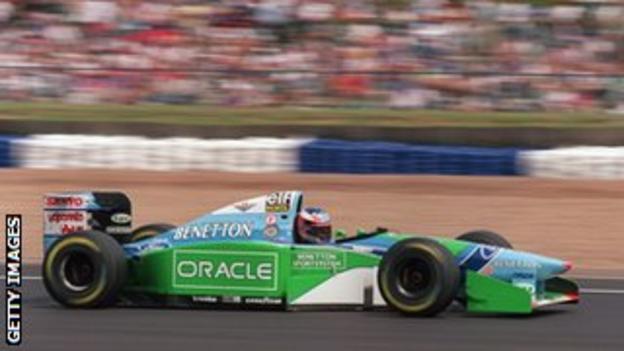 It all started before the race had even got under way, when Benetton's Michael Schumacher illegally passed pole-sitter Damon Hill's Williams on the formation lap.
Hill and Schumacher led but, when the German was handed a five-second stop-go penalty, he kept racing while his team bosses, Flavio Briatore and Tom Walkinshaw, argued with officials in the pit lane, trying to overturn the penalty.
Their failure to call him into the pits led to Schumacher being shown the black flag, which demands that the driver calls into the pits or face disqualification.
Schumacher did eventually stop to take his penalty, while Hill raced ahead to a popular victory. It was an emotional win for Damon, at a race his father Graham had never won, and it kick-started the strong title campaign he mounted in the second half of the season.
Schumacher finished second but was later excluded from the results and handed a two-race ban.
There was a lot more anguish to come that summer for Schumacher and Benetton.
Following a pit-lane fire for his team-mate Jos Verstappen in Germany, the team were found guilty of removing a filter from the refuelling system, for which they escaped punishment.
Benetton's attempt to overturn the two-race ban eventually failed and he had to serve it over the Italian and Portuguese Grands Prix - and after winning the Belgian race, which immediately preceded Monza, he was disqualified from that, too, because his car's underbody plank had worn too much.
He came back from his ban to win in Jerez, but then was memorably beaten by Hill in the rain in Japan before contentiously winning the championship when the two collided at the final race in Australia.
Definitely one for the memory book!