Teams block Pirelli's plans to change Formula 1 tyres

By Andrew Benson
Chief F1 writer
Last updated on .From the section Formula 1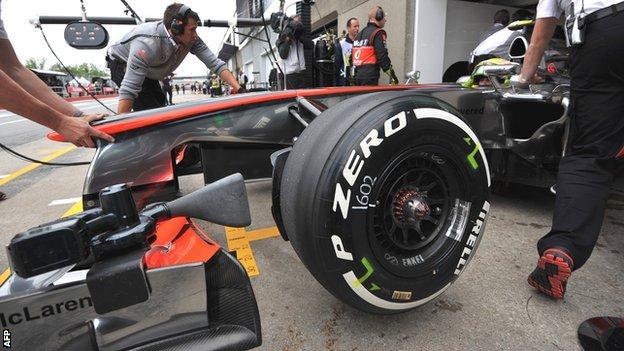 Pirelli has abandoned plans to change the tyres used this season after failing to secure the teams' agreement.
The Italian company wanted to change the construction of the rear tyres following a series of failures this year.
But the change was controversial and was blocked by some teams, who feared it would affect their competitiveness.
Pirelli now believes it has solved the problem by strengthening the adhesive that secures the rubber to the carcass.
Pirelli had been concerned by a series of delaminations in early races, including one that broke the rear suspension of Lewis Hamilton's Mercedes in practice in Bahrain.
It said there was no safety issue but admitted that it wanted to change the tyres because the failures looked bad from a public relations point of view.
Red Bull and Mercedes were also pressuring Pirelli to change the tyres on the grounds that they were too soft.
But Lotus, Ferrari and Force India refused to agree to the change, which required unanimous support from the teams because there was no safety concern involved.
They are the three teams whose cars have had the lightest tyre usage - while Red Bull and particularly Mercedes have been among the most extreme.
Pirelli had intended to race a new rear tyre construction from the British Grand Prix but have abandoned the idea after the wet conditions in Canada last weekend prevented the teams doing enough running to reassure the objectors that the tyres' behaviour would not change.
Pirelli said in a statement: "This decision is due to the fact that the new tyres, which were brought to the Friday free practice sessions in Canada, could not be tested sufficiently due to rain - and that the teams failed to agree unanimously about introducing the changes.
"Instead a change in the tyre production process should now ensure that the delamination issue has been addressed."
Pirelli has also listed the tyre compounds that will be available at the next three races.
At the British Grand Prix at Silverstone at the end of this month they will supply the hard and medium tyres.
In Germany the following week, the medium and soft tyres will be available, and in Hungary at the end of July the hard and medium again.
Pirelli has made a more conservative choice on tyre compounds than last year in both Britain and Hungary - last year the hard and the soft were used in Britain and the medium and the soft in Hungary.
However, this year's tyres are all approximately one grade softer than last year's - so this year's hard is effectively last year's medium in terms of rubber compound, and so on.