Mercedes and Pirelli tyre test hearing set for 20 June
Last updated on .From the section Formula 1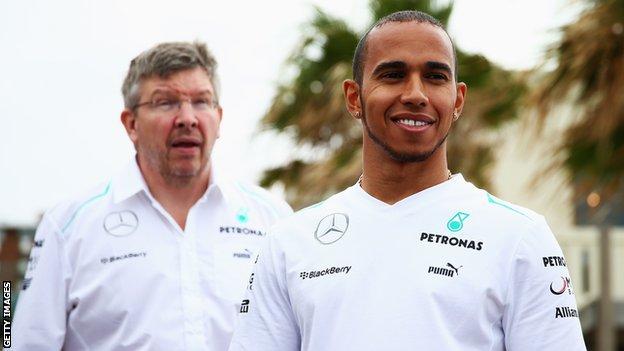 Mercedes and Pirelli have been called to appear before F1's international tribunal to answer charges over their controversial tyre test.
Tyre supplier Pirelli used Mercedes for a three-day test in May.
The International Automobile Federation (FIA) said it "may constitute a breach" of rules forbidding mid-season testing.
The hearing will take place on 20 June before a judging panel in Paris, with the FIA saying a decision will be published "as soon as possible".
The tribunal was called after Mercedes' rivals Red Bull and Ferrari protested against their use of a 2013 car to help Pirelli in a 1,000-kilometre test in Barcelona.
Neither Pirelli nor Mercedes told the other teams about the test, which took place for three days after the Spanish Grand Prix, and drivers Lewis Hamilton and Nico Rosberg wore non-identifiable helmets.
Mercedes team boss Ross Brawn told BBC Sport the arrangements for their controversial Pirelli tyre test were based on "privacy not secrecy".
But the team are deemed to be in breach of the in-season testing laws, with a wide-range of sanctions available to the tribunal, including a fine, points deduction, race ban, or exclusion from the championship.
The exact nature of the charges faced by Pirelli, and any potential penalty for the Italian manufacturers, is not clear.