David Coulthard column: Hard racing marked F1's return to form

By David Coulthard
BBC F1 co-commentator
Last updated on .From the section Formula 1
Now THAT was a proper Grand Prix. I left Canada re-enthused about Formula 1, with my criticisms that the previous race in Monaco was rubbish firmly put in their place.
I was worried going into the Canadian Grand Prix that we would see a one-stop strategy race but from the outset it was clear that drivers were getting a move on and committing to a two-stop strategy.
I felt genuinely stirred by the fact it looked racy. You could see people physically on the limit.
We know the difference between seeing people cruising out of a corner and working it out of a corner. We saw drivers pushing, exploiting their performance; we saw aggressive wheel-to-wheel racing. Just like Formula 1 should be.
Red Bull's Sebastian Vettel may well have been comfortable out front but it was good, forceful stuff from him, brushing the wall in Turn Four and running wide at Turn One despite having the race under control.
We have got so used to seeing a three-second gap being managed to the chequered flag. The fact Vettel had a much bigger margin than that and was still pushing told us everything we needed to know. In Canada, we had a Grand Prix in the true sense.
It was no accident that Vettel dominated the first race this season in which the drivers have been able to push to the limit.
When Red Bull's drivers can push, they are able to exploit the performance of the car; when they're not able to push it plays into the strengths of some of the other cars.
Vettel is still only 25 and he now has 39 pole positions and 29 victories. Yet, mystifyingly, some people still question how good he is.
I'm told there were some boos for him while he was on the podium. Eddie Jordan said he thought it might be a reaction to Vettel ignoring team orders in Malaysia this year. I think it's more likely just to be the fact that there are a lot of Ferrari fans in Canada, dating right back to the days of Gilles Villeneuve, after whom the Montreal track is named.
It was a great podium - with Vettel, Ferrari's Fernando Alonso and Mercedes' Lewis Hamilton. Three great drivers in three top teams.
With Vettel and Alonso up front again, we have a good World Championship on our hands, and although Kimi Raikkonen slipped behind Alonso into third place, it would be foolish to write him off despite a poor weekend for Lotus.
There was some good racing from Ferrari's Felipe Massa coming back through the field after a bad qualifying performance, and some really aggressive stuff from Alonso and Hamilton as they fought over second place in the closing laps.
Great drivers that they are, they managed to push each other right to the edge without ending up in a ball of carbon-fibre at one corner or another.
Black marks against some of the backmarkers, though. You can't fight blue flags. Even if you're in your own race, no matter how frustrated you are, you've got to get out of the way.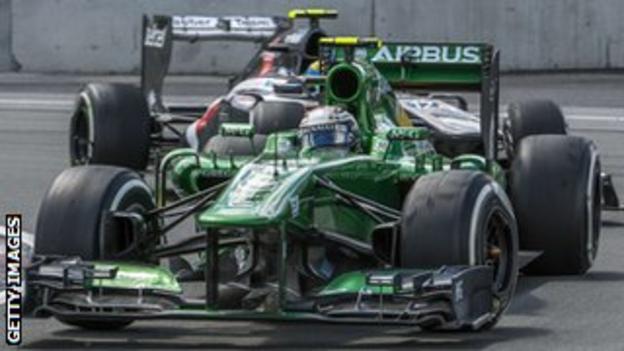 Caterham's Giedo van Der Garde had a pretty strong weekend in Monaco, particularly in qualifying, but this was not a great performance from him. I'm sure there are reasons for it, but I've been there. You can't fight against the system. You're being double-lapped - get out of the way.
His incident with Van Der Garde was another example of how Red Bull's Mark Webber continues to be one of the unluckiest of the top six or seven drivers out there.
Other young drivers excelled.
I've got to give full marks to Valtteri Bottas for not giving up too easily as the uncompetitive pace of the Williams inevitably made it impossible to hold on to the excellent third place he took in qualifying.
Bottas fought hard in the early laps, not giving up when challenged by Adrian Sutil and Raikkonen, and even fighting hard against Alonso on the first lap. Ultimately, Bottas paid the price for not having a competitive car, but he certainly made an impression.
There were also good, stand-out performances from Force India's Paul Di Resta, coming from 17th to take seventh, and Toro Rosso's Jean-Eric Vergne, who converted his excellent seventh place in qualifying to a sixth in the race.
Di Resta had a great race - and he needed it, because there was the general feeling in the paddock that the understandable frustration he expressed in his BBC TV interview at getting the timing wrong in a difficult wet qualifying session was one criticism too far in a team environment.
Paul's comments on Saturday are a good life lesson to all the drivers that sometimes it's least said, quickest mended. There is a way of making your point without damaging the relationship with the team.
Leaving that aside, Di Resta and Vergne produced the sort of on-track performance those guys need to have consistently if they are ever going to break out of those mid-grid teams.
Vergne has made a decent step forward this year after his debut season in 2012, but there is always a question mark over any driver until he has the chance in a top team.
There have been many examples of drivers who have looked good in smaller teams not performing when they get to a top team.
In my day, for example, Heinz-Harald Frentzen performed really well at Sauber and later at Jordan. But in between his time at those two teams, he went to Williams when they were world champions and didn't really excel.
There's an ongoing experiment on this front in McLaren's Sergio Perez at the moment.
At the moment, Perez is scrabbling about where he was at Sauber, so he's probably quite happy because he's in a big environment, whereas Jenson Button has been in a top team for a while but is now in a mid-grid position.
That's two completely contrasting mindsets from two drivers in the same team. One has his mojo firmly going; the other is not feeling too good about it all.
Canada was rock bottom for McLaren. It was the first time in 66 races that they have not scored any points.
On the one hand, that shows how good they have been over the last four years, but on the other it shows just how far they have fallen.
The next race, the British Grand Prix on 28-30 June, should be better for them because the traction demands are less, and that is a major weakness of the car, but it is a fair way back from here.
McLaren's struggles to find form, a title battle just beginning to simmer, and young drivers making their mark - there are a lot of good stories bubbling away in F1 at the moment, and it's not even halfway through the season yet.
David Coulthard was talking to BBC Sport's Andrew Benson