Vettel's Canada dominance down to circuit layout - Gary Anderson

By Gary Anderson
BBC F1 technical analyst
Last updated on .From the section Formula 1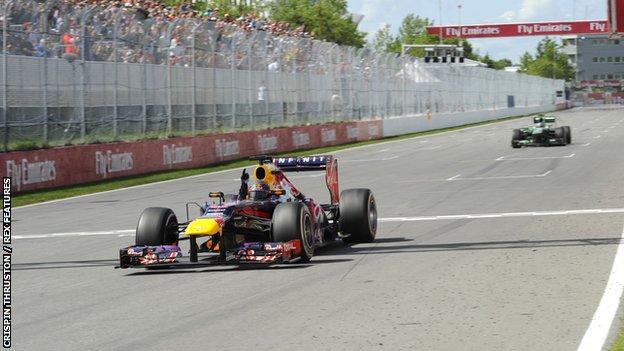 Sebastian Vettel's domination of the Canadian Grand Prix was all about the circuit layout.
The Circuit Gilles Villeneuve is fundamentally a traction track. There is only one quickish corner and the lateral forces are low. To be quick, a car needs good traction coming off the corners and for the tyres not to grain - where the surface starts to tear.
All that plays to the strengths of the Red Bull and minimises its weaknesses - there are none of the high cornering forces that caused them such trouble in Spain, one of only two places so far this season where Vettel has not been on the podium.
As with Monaco, Canada is a unique track with unique demands. So, impressive as Vettel's win was, it does not necessarily mean he is going to carry on like that for the rest of the season.
Having said that, there is no denying that the Red Bull is a good car and Vettel's early laps in the race were like so many of his victories have been - blistering pace to take him out of the DRS range. The difference this time was that he kept pushing afterwards as well, rather than just managing the gap.
It was interesting that Vettel's team-mate Mark Webber had a fairly major part of his front wing knocked off but continued to be competitive, even setting the fastest lap of the race. That is an indication of the lack of high-lateral-force corners in Canada. Had there been, Webber would have killed the front tyres with that damage.
FERRARI NEED MORE DOWNFORCE
As far as Vettel's title rival Fernando Alonso is concerned, Canada provided the same lessons as so many races over the past couple of years - the Ferrari is a quick race car but they need to get more pace out of it in qualifying.
If Alonso had been on the front row with Vettel, could he have disputed the win? He certainly lost a lot of time fighting with other cars - he did not get past Lewis Hamilton's Mercedes into second place until seven laps from the end.
Ultimately, Alonso took away the maximum he could have done considering he started sixth. Ferrari have to make the car fast enough to enable him to start alongside Vettel so he can go racing with him. And for that, they need more downforce.
If he starts higher up, Alonso will be OK. Ferrari are good on the tyres, but he needs to be able to push the Red Bulls to make them use their tyres harder.
MERCEDES' TYRE CONUNDRUM
Force India's Paul di Resta did a fantastic job to climb up to seventh from 17th on the grid on a one-stop strategy. The Scot went 57 laps on a set of medium tyres - and that was from the start of the race, when he was on a full fuel tank.
Had Hamilton gone for a one-stop strategy in his Mercedes, he would have had to do 50 laps after his first stop to make it to the end of the race.
The Englishman had an 8.3-second lead over Alonso when the Ferrari made its second stop, to which Mercedes immediately responded. Had they kept Hamilton out there, his lead would have been 23 seconds with 22 laps to go.
Would that have been worth trying? Did they look at the fact Di Resta was in very good shape after a very long run?
Mercedes have more problems with their rear tyres than any other team - Pirelli said they were running 20C hotter than on the other cars - but, even so, they might have had a look at it. Higher temperatures are a problem, but the new set would suffer in the same way as the one he already had on. So do you drive conservatively and try to protect a lead, or put on another set and have them overheat within two laps anyway?
Hamilton pitted when his lap times were still competitive. Had he done a one-stop, he might have been able to hang on ahead of Alonso.
I think Mercedes knew Alonso was going to have Hamilton if they both did the same strategy - the Ferrari is simply a quicker race car. Opting for a different strategy might have been a chance to throw the dice. But then Ferrari and Red Bull did try that in Canada last year and it failed to come off.
Beyond that, it's difficult to understand why Mercedes can't get on top of that tyre problem.
The controversial test they did with Pirelli at Barcelona, which has led to their forthcoming disciplinary hearing in front of the FIA international tribunal, has obviously not helped them with that. So that was an opportunity gone begging, and they got a lot of flak for it, too.
McLAREN IN A MESS
Perhaps the single most striking aspect of the Canadian Grand Prix was McLaren's performance. They are just not getting anywhere at all with that car, and it was the first time in 66 races that the team had failed to score a point.
We are seven races into the season now and there were three tests before those seven races. So that's 10 events to react to and yet they are making no progress relative to the competition.
McLaren did not build a bad car deliberately. They built one because the research they carried out did not tell them the facts they needed.
In that situation, it is always very difficult to find the problem, because you have not recognised it in the first place - it has been unknowingly built into the car.
Chatting to them, they are still looking at general development. But that won't get them out of it. Something is not functioning properly on the car and that is what they need to fix - if you do general development around a problem, you just make it worse.
They recently introduced some changes to the sidepods, making them less aggressive. They will have done that because they will have spotted some issue with the airflow.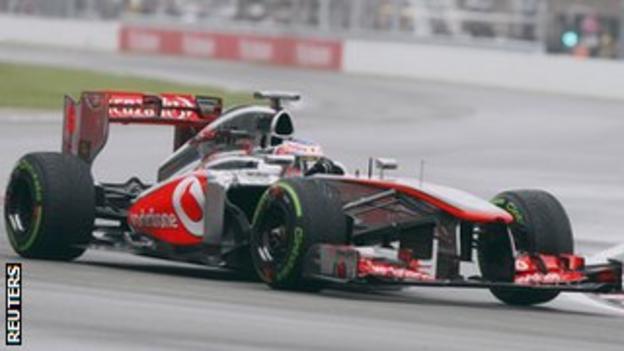 But that's not fixing the problem, and by doing it they will end up losing the performance they should have, so that, when they do eventually fix the problem, the car will be slower than it would have been otherwise.
So I think they are developing themselves into a mediocre vehicle.
Red Bull - and Ferrari to a lesser extent - show the way it should be done. Even Red Bull don't always get it right, as we saw at the start of last year, particularly, and to some extent this year. But they go off and regroup and fix stuff.
They do a lot of changes to keep themselves up there and I'm not seeing that with McLaren at the moment. Maybe they will go to the next race at Silverstone with something new and it will be like a light switch and it will all be great again. But I don't see it.
A THOUGHT ABOUT TYRES
Jenson Button said that the lap time McLaren decided to do was far too slow - and when he pushed he could still keep them alive. Well, maybe the teams are just trying to be too sophisticated with the tyres. Maybe the drivers should just drive the car to the limit more.
Between laps 10 and 20, everybody found the tyres were graining, moaned and groaned about it and in many cases pitted.
But those people who didn't pit actually found the tyres came back again and they started doing better lap times.
That won't happen at all the tracks because of the greater lateral loads involved, but on certain tracks it might be worth the teams thinking about that.
Gary Anderson is the former technical director of the Jordan, Stewart and Jaguar teams. He was talking to BBC Sport's Andrew Benson