Canadian GP: Paul Di Resta stoic over Force India grid problems
Last updated on .From the section Formula 1110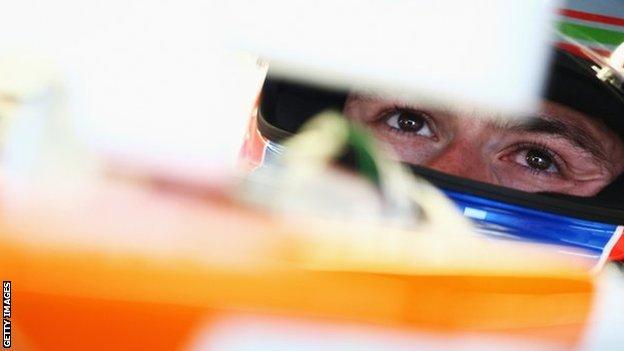 Paul Di Resta says bridges have been mended after a seventh-place finish in the Canadian Grand Prix compensated for a mistake in qualifying.
"It was taken constructively," he said. "Everybody in the team felt the same.
"But we regrouped, showed we can do it and, as far as my relationship with the team is concerned, it's still good."
It was the second grand prix in a row that the 26-year-old had started so far back.
In Monaco a fortnight ago, he paid the penalty for being kept on the track too long on intermediate tyres, while in Montreal he missed the best of the conditions as his team opted to fix a gearbox issue.
"The person who made the mistake apologised and I'm fully supportive of that," said Di Resta. "It's just unfortunate it happened two weeks in a row, which is where the anger was.
"Looking back, I don't think I was too harsh. When you work with the team so closely, it's good to have that heat because you need to show your emotion.
"If I'd twice made a mistake, I'd be kicking myself and the team would come down hard on me - and rightly so."
The team adopted an aggressive strategy, opting for a one-stop plan, to propel the Scot up the field as he ran for a remarkable 56 laps on his opening set of medium-compound tyres, the longest stint of any driver on any rubber used this season.
It resulted in him finishing in the points for sixth race out of seven this campaign and, with 34 points to his name, Di Resta already has more than in his debut season of 2011 and is only 12 behind his total from last year.
Ahead of the British Grand Prix at Silverstone on 30 June, Di Resta said: "This was a massive result given the unlucky circumstances we have had over the last two grands prix.
"We'll now look to build on this and try to get three consecutive good days at the British Grand Prix.
"If we can do that we can have a big impact. Overall, this result is perfect timing and more points on the board to keep up my record as well."