Lewis Hamilton on Canadian Grand Prix & Sir Stirling Moss
Last updated on .From the section Formula 1268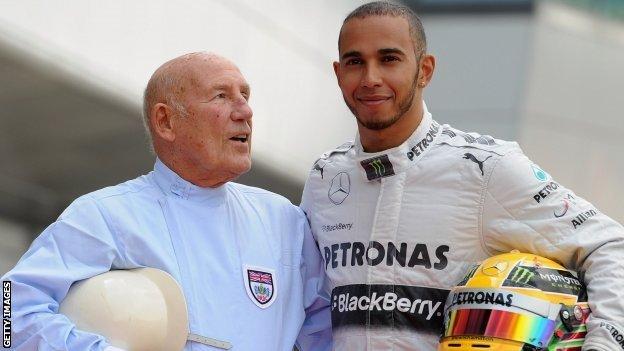 In his latest column for BBC Sport, Lewis Hamilton talks about how he has not yet mastered his Mercedes, teaming up with a "cool" F1 great and a surprise anniversary holiday.
Let's get one thing out of the way first - there has been a lot of talk about the Pirelli tyre test my Mercedes team did last month, in which I was involved. But it's not something I'm really focusing on.
The team are dealing with that and I am just trying to keep my concentration on the car and preparations for this weekend's Canadian Grand Prix. I got my first win in Montreal and it has always been one of my favourite races.
I've always gone well on the track and I'm hoping for a strong race again this year, but it's no secret that I'm not totally comfortable with the car yet this season.
Driving a Formula 1 car is all about feel. At my previous team, I was used to the pedals, the controls and so on. It took some time to master them but once I'd got used to them it was the same every year.
When you go somewhere new, you have new people, new ways of communicating you have to learn.
The same ways you communicated before don't apply and the mechanics of the car are quite a bit different, in terms of suspension geometries and ride-heights and all those kinds of things.
So this car's sweet spot for me is in a different zone than it used to be at McLaren.
The braking has been a bit of a killer for me this year. It's harder to get temperature into the tyres with this car than I've experienced in the past.
My qualifying laps haven't been that bad, but I don't think my tyres have ever been ready in the first quarter of the lap this year and a lot of time goes in that first part of the lap.
It's definitely something I'm working on. It's not an excuse. It's just different.
Braking is important because it is where everyone gains all the time. I've always been the latest of the late brakers, but you also have to modulate the brakes through the corner to control the car.
If you don't have the feel you need in that control zone, then you don't have the confidence to attack the braking zones because you're worried about locking the wheels or the stopping power. And if you damage these tyres, they don't come back.
I've been working in the simulator, using different techniques. There are a lot you can use: for example, lift and coast in a race situation, so instead of braking at 100m, you lift at 120m and brake at 80m; or later downshifts.
How you slide the car, how you progress the throttle, how you brake, all these things can change how the tyres work. My team-mate Nico Rosberg seems to be very good at quite a few of those. He is no pushover. He is doing a fantastic job and I have to do better.
Because of this I'm braking earlier than I would be otherwise, so that's where I'm losing all my time. Even so, I'm still there in the mix. There is a lot of time lost on the brakes - in Monaco I lost 0.3 seconds in the first sector just on brakes and I only qualified 0.1secs off the pace.
The time's there and I'm not worried about it; I've just got to get that confidence back and then I'll be in good shape.
THE CANADIAN GRAND PRIX
Canada is a track where you really need confidence in the brakes as there is a lot of heavy braking from high speed down into slow corners. So if I don't get that confidence here I'm going to struggle.
This is a great grand prix. Montreal is a fantastic city and the track is awesome.
It doesn't look that difficult from the outside but it's quite demanding. It's fast; there's not a lot of grip. There is a huge turnout of fans every year, so the atmosphere is great.
I train out in Colorado in the winter and, in general, I just love being in North America.
The people seem to be really nice. There is great food, great weather, great scenery. Not that you don't have that elsewhere, but somehow I just really connect with it out here.
SOME TIME WITH A LEGEND
I did some filming with Sir Stirling Moss last week for a film you can see on BBC One in the build-up to the race on Sunday.
It was good to spend some time with him. I've never really spoken to him since I was in GP2 in 2006.
He has been a bit critical of me in the past after reading certain things and hopefully this will re-establish some communication and change his opinions.
He's such a cool man. He's soft and friendly and we had a great chat.
We were there with the 1955 Mercedes W196, which Moss drove as team-mate to Juan Manuel Fangio, and we compared how incredibly different things were back then with how they are today - helmets, steering wheels etc.
He said he'd be frightened to death to drive the current generation of F1 cars today because they're so fast, which was funny because I'd certainly be frightened to death of the generation of cars he was driving, from a safety point of view.
SOME TIME OFF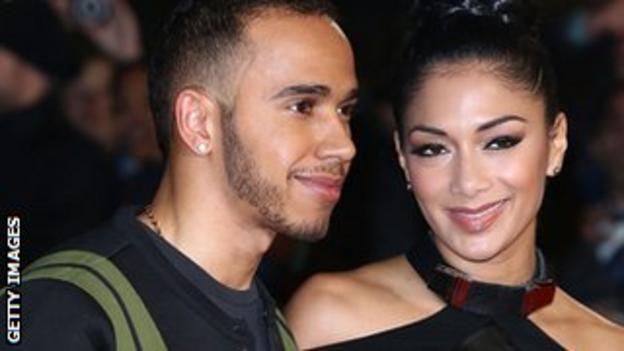 After Monaco, I took Nicole off on a surprise holiday to celebrate our fifth anniversary together.
When she realised we were going to Capri, she was thrilled - she'd always dreamed of going there.
We went to the famous Blue Grotto - a cave on the coast - and Nicole sang Ave Maria while we were in there, which was incredible.
We had some nice dinners out and we just had a laugh and messed around. It was a really relaxing few days.