Canadian GP: McLaren support under fire Sergio Perez
Last updated on .From the section Formula 1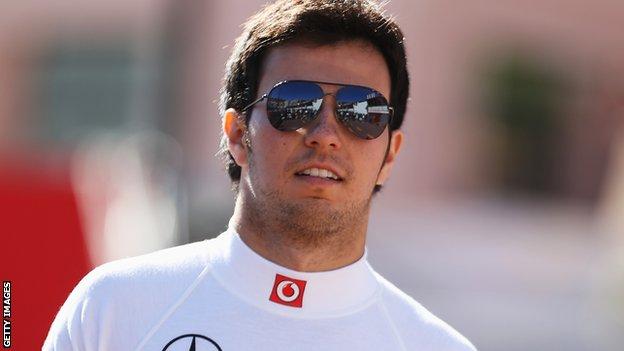 McLaren have no plans to tone down Sergio Perez's driving style, despite the Mexican having received criticism from some of his fellow drivers.
McLaren sporting director Sam Michael said: "We are fully behind him."
He added: "Ultimately he is racing driver and he is just racing.
"All the moves that he has done are all moves that have been done by all of the drivers in various points of their career - some recently and some long ago.
"The overtaking opportunities that were available at the chicane in Monaco are ones that have been used since before Perez was even born.
"Ultimately he is racing for his position, he is establishing himself and that is Formula 1."
This weekend's Canadian Grand Prix will be Perez's seventh for McLaren after replacing former world champion Lewis Hamilton, who left to join Mercedes.
Last season, Perez was praised for his strategic racing which earned him three podiums with Sauber.
He has finished in the top 10 three times this year, with his sixth place in Bahrain his best result for McLaren so far.
Button, meanwhile, has fared only marginally better, with the 2009 world champion finishing in the top 10 on five occasions and coming home fifth at the Chinese Grand Prix in April.
Michael is happy with how Perez is faring in comparison to his more experienced team-mate.
"He is good at many things, especially for a 23-year-old," he added.
"Button has at least 10 years more experience in Formula 1 than Perez does and he is world champion, so he is a hard guy to match, but Checo is doing well against him.
"He definitely went through a transition in the last two or three races and he has been able to really mix it with his team-mate. As long as he keeps going in that direction that is all that matters to us."