Sebastian Vettel says he may quit Formula 1 in five years

By Andrew Benson
Chief F1 writer
Last updated on .From the section Formula 1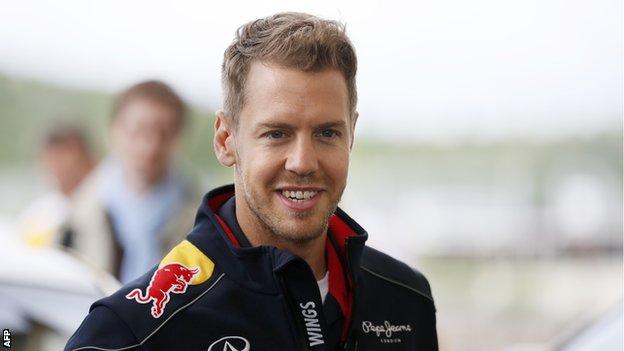 World champion Sebastian Vettel has said he may quit Formula 1 in five years' time.
The 25-year-old made the remarks in German newspaper Welt Am Sonntag in response to a question about whether he would leave Red Bull one day.
Vettel, who has won the last three drivers' titles, made it clear he was talking in the abstract.
"I can't say. Perhaps I will no longer be driving in five years' time because I no longer have the urge to," he said.
"Perhaps I will compete for another team in five years because I feel ready for a fresh challenge. Every human being evolves as time goes by, priorities shift.
"Right now I feel completely at ease here and I could not imagine driving anywhere else.
"The car is quick, the team does well - I see no reason to leave. But that does not automatically mean I will stay forever."
Vettel has long been linked to an eventual move to Ferrari, but any possibility of a move seems some years away.
Red Bull have publically said Vettel is contracted to the end of 2014, and it is believed he has actually signed until 2015 and has options to stay with the team beyond that.
A more immediate question for Red Bull is the identity of his team-mate in 2014.
Vettel has had a tempestuous relationship with Mark Webber, his colleague since the German joined the team in 2009, and their relationship took a turn for the worse when Vettel ignored team orders not to pass Webber to win the Malaysian Grand Prix.
Although Red Bull boss Dietrich Mateschitz has said Webber can stay if he wants, it is considered likely that the 36-year-old will leave the team - and probably F1 altogether - at the end of the season.
Lotus driver Kimi Raikkonen - one of Vettel's two main title rivals this year, along with Ferrari's Fernando Alonso - has been strongly linked with the team.
Asked whether he would like the Finn as his team-mate, Vettel said: "I don't know how realistic that is. But I get along very well with him."
The two men are said to be friends and occasionally meet up socially, including to play badminton.
But asked if an F1 driver could be friends with his team-mate, Vettel said: "Well, friends is perhaps a bit exaggerated.
"We see each other at races and - time permitting - also between the events. We are both uncomplicated, straightforward, honest. We get along fine.
"But true friends, people you trust with everything, those do not exist in Formula 1."