Ferrari investigated by FIA over alleged illegal Pirelli tyre testing
Last updated on .From the section Formula 1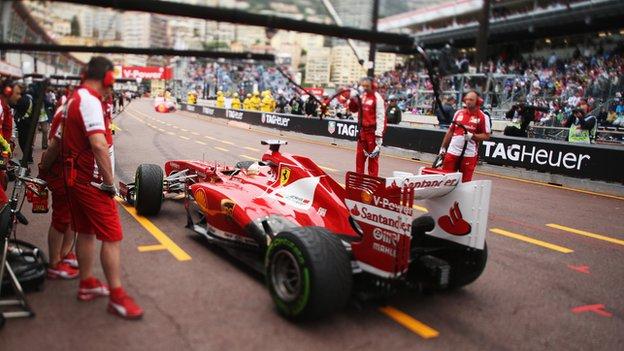 Ferrari have joined Mercedes as the subject of an investigation by Formula 1's governing body the FIA into alleged illegal tyre testing with Pirelli.
Ferrari said they conducted their test with the tyre manufacturer with a 2011 car in compliance with the regulations.
However, it appears the FIA believes Ferrari still have questions to answer.
A statement from the FIA said: "The FIA has asked Team Mercedes AMG Petronas F1 and Scuderia Ferrari Team, which have taken part in tyre tests in the 2013 season, to reply to a disciplinary inquiry in pursuance of the FIA Judicial and Disciplinary Rules.
"This follows the stewards' report from the Monaco Grand Prix and represents supplementary information required by the FIA in the light of the replies received from Pirelli, who were asked for clarifications on Tuesday 28 May."
A spokesman for the governing body said the two teams had been asked to reply to a list of questions and had not yet been summoned to any formal hearing or tribunal, which could ultimately impose heavy sanctions.
Ferrari had added their protest to one filed by champions Red Bull after news leaked out that Mercedes had tested tyres with their current car and drivers Nico Rosberg and Lewis Hamilton in Spain this month.
Red Bull principal Christian Horner suggested Mercedes had gained an unfair advantage from the 1,000km test in Barcelona, which he said was carried out in an "underhand" manner without others knowing.
It subsequently emerged that Ferrari had also tested, albeit with a 2011 car run by their customer division Corse Clienti rather than the race team, for Pirelli some weeks earlier.
Pirelli has confirmed that Mercedes were not the only team to have tested on its behalf this season but had not publicly named Ferrari as the other outfit involved.
The Italian-based tyre manufacturer has defended itself in the row over the Mercedes test, saying it was the company's understanding that the German team had cleared the test after "good discussion" with the FIA.
"For these tests, as with others, we requested the use of a representative car," Pirelli motorsport director Paul Hembery said.
"We wanted to create a test that gave us great value. It has been suggested in some quarters we asked for a 2013 car. That's not true.
"We asked for a representative car. Our understanding is there was good discussion between Mercedes and the FIA on this subject."
Hembery added that Mercedes gained no advantage from the Barcelona test, as the tyres being examined were for use in next year's championship, and claimed the test was not secret in any way.