Felipe Massa crash at Monaco Grand Prix down to suspension failure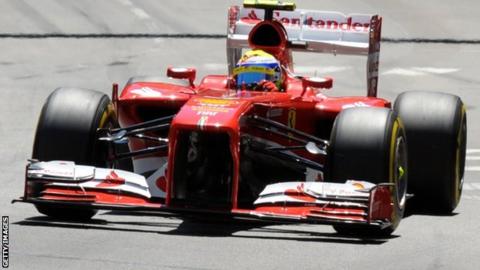 Ferrari driver Felipe Massa's crash at the Monaco Grand Prix on Sunday was caused by suspension failure not driver error, the Italian team have revealed.
Massa, 32, had crashed in practice on Saturday and then had an identical shunt on lap 30 of the race.
The Brazilian was taken to Monaco's Princess Grace Hospital as a precaution but was soon released.
"The accident was caused by an element of the front-left suspension breaking," a Ferrari statement read.
Massa crashed during the race at Sainte Devote as he hit one barrier before sliding into the impact-absorbing barriers in the run-off area.
"The best news to come out of the Monaco weekend is that Felipe is fine," said Ferrari team principal Stefano Domenicali.
"Two big accidents, just over 24 hours apart, and all he has to show for it is a bit of muscle pain. Fortunately there were no other injuries."