Is Formula 1 real racing any more?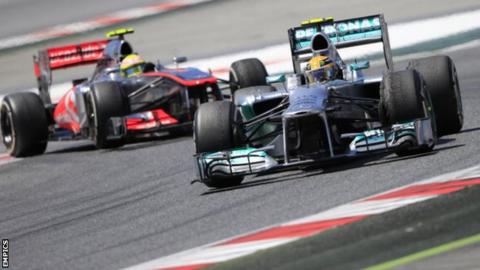 The Monaco Grand Prix: the ultimate test of man and machine. It is the best drivers in the world taking themselves and their cars to the outer limits on a track that demands precision and bravery, millimetres from the barriers and disaster, the ultimate in extreme sport.
Monaco is Formula 1's blue riband, the event where it likes to show off to the world in a location that befits the drama of the cars, the skill of the drivers and the glamour that seeps from both.
Behind the facade, though, there is unrest and disquiet. Just as the grand prix on Sunday will likely be a high-speed procession, a show as much as a race, there are those who say the desire to create entertainment in a sport for a long time criticised as boring has polluted Formula 1's soul.
Here in Monaco on Sunday, the winner will likely make one pit stop and overtaking will be rare. The nature of the street circuit in the tiny Mediterranean principality will make the race an exception to the 2013 rule, when grands prix have become a blur of pit stops, and overtaking manoeuvres have become so commonplace as to become unexceptional.
If you believe the detractors, F1 is no longer 'real' racing.
Critics say deliberately soft Pirelli tyres - introduced to force more pit stops - are preventing drivers from pushing to the limit.
The need to manage tyre life, detractors say, has led to meaningless overtaking manoeuvres, drivers instructed by faceless engineers in the pits not to fight a rival on fresher tyres because doing so will over-use the tyres, prevent them making their pit stop on the right schedule, negatively affect their overall race time.
Most vocal are world champions Red Bull.
Team principal Christian Horner says the tyres are "too marginal". World champion Sebastian Vettel says "driving is very different to what we knew and what we like". His team-mate Mark Webber adds: "You get five fast laps per weekend. (Car) upgrades are data-driven. Driver feedback is minimal. Tyres are the biggest factor."
Red Bull, though, have an agenda. Vettel is leading the championship, but his team believe the performance of their car is being held back by the need to manage the tyres. Give them a more durable tyre, they believe, and they would be able to exploit more of its aerodynamic downforce and leave their rivals behind.
Webber is not immune to using politics for his own ends, but he is also a man who cares deeply about F1 in particular and sport in general. The Australian is in F1 to test himself to the limit against the best drivers in the world and see how he fares, the reward all the greater when he wins.
So there is no doubt that he was genuine when he said in Monaco this week: "In terms of whether we have a race where cars are racing each other, racing hard and racing for position, constantly pressuring each other, compared to a bit more entertainment, let's say, I think we need to continue to fine-tune things."
Horner says the problem is that drivers are no longer pushing to the limit in races but are "driving at 65-70% for large portions of the race".
Most would agree that would be worrying. But is it accurate? It is certainly not the story coming from their rivals Lotus or Ferrari, both of whose cars are proving to be good with tyres this year.
Lotus driver Kimi Raikkonen, who is only four points behind Vettel in the championship, says: "We always try to go as fast as we can and obviously you want to go fast all the time. But there are some limits, in your car or tyres. If you try to make 15 laps more on tyres than others, we cannot always go 100%. But I wouldn't say we have to drive on some (target lap) time or (at) 80%."
Vettel, who gets on well with Raikkonen, claims that behind the scenes he is getting a different story.
"In the media," the German says, "it looks like Red Bull is complaining, but I hear the drivers' voices in the meetings we have together.
"And when you chat to other drivers, even if you pinpoint Lotus and say they have the best car for these tyres, still their drivers complain. They have the same problem as us but to a lesser extent."
Insiders at Lotus, though, say Raikkonen has no problem with the tyres, and is "definitely pushing hard" in races.
So, too, say Ferrari, is Fernando Alonso, the other main title contender and, like Vettel, a winner of two races this year.
"Of course they're pushing," says a source close to Alonso. "You have to push, but think about the tyres."
So what is going on? Are the drivers racing hard? Or are they, as Red Bull say, effectively driving within themselves for most of the grands prix?
In an attempt to find out, BBC Sport has been crunching some numbers.
The claim is that the Pirelli tyres do not allow drivers to push to the limit in races, unlike in the Bridgestone era pre-2011.
So we have compared the five races so far this year with the same races since 2010, which is particularly relevant as a reference as it was the only year the more consistent Bridgestone tyres were used when there was no refuelling.
BBC F1 technical analyst Gary Anderson has worked out the winners' average race lap time and the difference between that and his qualifying time, to establish how much slower the driver is going in the race.
The numbers look like this:
2013: 7.57secs
2012: 7.03secs
2011: 8.24secs
2010: 6.67secs
The first thing that strikes you is that the margins between the Pirelli and Bridgestone eras are much smaller than you might imagine from the current complaints.
But then you have to take into account the introduction of the DRS overtaking aid in 2011, and the modifications to its usage for this year. That means subtracting a second from the numbers in 2011-12 and 0.5secs this season, to account for the advantage DRS gives in qualifying.
Do that and the numbers look like this:
2013: 7.07secs
2012: 6.03secs
2011: 7.24secs
2010: 6.67secs
In other words, the numbers suggest that, give or take a couple of tenths of a second, the drivers are going no slower in the races this year than they were in 2010.
So what is going on? Why the complaints?
It is very hard to find someone who does not - or might not - have an agenda. So I went to find Jenson Button, an intelligent and honest man whose McLaren team are not in title contention this season.
As context, it should be remembered that, although 2010 is being held up as some kind of nadir, with boring one-stop races, it was in fact an all-time classic season, with five drivers - one of them Button - in title contention virtually throughout.
One of the best races was at Monza, when Button and Alonso were flat out throughout in a thrilling duel eventually won by the Spaniard.
Can you still race like that now, I asked Button?
"Yes - at the end of last year," he said. "In Austin, I was pushing bloody hard all the way through."
What about this year?
He conceded the drivers were pushing flat-out for less time this year than at the end of 2012, but said they were still doing so for about 50% of the race.
Has the skill gone out of F1, then, I asked?
"No," Button replied. "It's just different."
Does that sound like a sport that needs to be in an existential crisis? On balance, you would probably say no.