Red Bull boss on Pirelli tyres: 'F1 nothing to do with racing any more'

By Andrew Benson
Chief F1 writer
Last updated on .From the section Formula 1947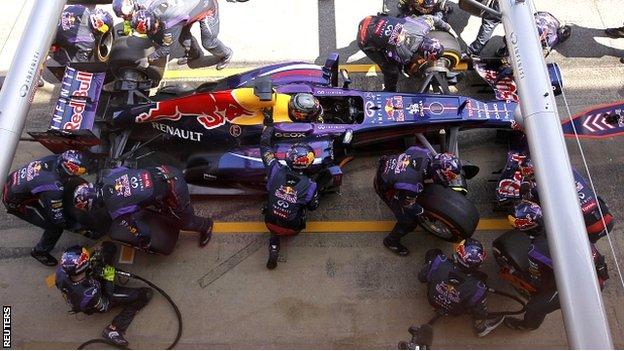 Red Bull owner Dietrich Mateschitz has criticised the state of Formula 1, saying it is "nothing to do with racing any more".
The team have been vociferous opponents of the fast-degrading Pirelli tyres and have been pressuring the Italian company to produce more durable rubber.
"Everyone knows what happens here," Mateschitz told Austrian journalists.
"Under the circumstances, we can neither get the best out of our car nor our drivers."
Mateschitz, a man of great influence in F1 who runs two teams in Red Bull and Toro Rosso, said: "This is a competition in tyre management. Real racing looks different."
He met the sport's commercial boss Bernie Ecclestone after Sunday's Spanish Grand Prix, in which Red Bull driver Sebastian Vettel came fourth, but did not reveal what they discussed.
He added: "There is no more real qualifying and fighting for the pole, as everyone is just saving tyres for the race.
"If we would make the best of our car we would have to stop eight or 10 times during a race, depending on the track."
Pirelli entered F1 in 2011 with the mandate to produce more exciting racing by increasing the number of pit stops, but Mateschitz said they had gone too far.
"Yes, it was the target to get more excitement into the races by more stops for tyre changes, but not that much," he said.
"This is now a different situation from the original intention."
After five races, Vettel is leading the championship by four points from Lotus's Kimi Raikkonen.
The Finn was second in Spain behind Ferrari's Fernando Alonso, who is third in the championship, 17 points behind Vettel.
Both Vettel and Alonso have won twice this year and Raikkonen once.
Vettel said after Sunday's race: "We're not going the pace of the car, we're going the pace of the tyres and obviously we do something to make the tyres wear more."
Raikkonen, whose Lotus car is regarded as one of the best at looking after its tyres, said: "I don't really think it's any different to last year.
"Obviously I wasn't there the year before (2011) but they had a lot of pit stops (then) also. So that's the way it is and it's the same for everybody."
Pirelli motorsport boss Paul Hembery admitted after the race in Spain that four pit stops, the number Alonso made on his way to victory, was too many.
He said the company would this week consider whether to change their approach - either by making more conservative choices, or changing the tyres' design - from the British Grand Prix at the end of next month.
Asked about the prospect of the tyres changing, Lotus team principal Eric Boullier said: "In some ways it's not fair but we have to deal with it. Everyone has the same tyres."
He added: "There was a slight change here that was supposed to please the most complaining team."
That is a reference to Pirelli's decision to make a more durable version of the 'hard' tyre than it had used in the first four races.
The tyre made its debut in Spain and was the preferred choice in the race for most teams, including Red Bull and Ferrari.
Hembery said: "We're only doing what we're being asked to do. We were asked to replicate Canada (2010).
"Some of you - some of you - would like us to do a one-stop where the tyres aren't a factor. You can go back to processional racing where the qualifying positions are the end positions."
He added: "It's rather bizarre. We're only doing what we've done for the last two years and we don't understand why you're so excited.
"It's bizarre unless you all want us to give Red Bull the tyres to win the championship. It's pretty clear. If we did that, there would be one team that would benefit and it would be them."