Murray's Memories
Last updated on .From the section Formula 1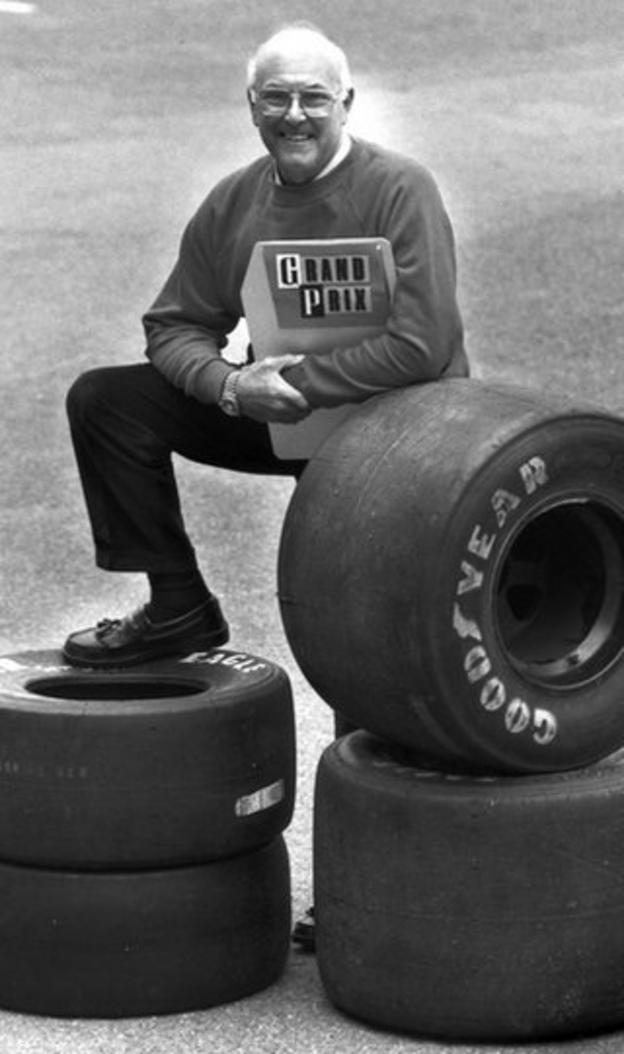 Legendary F1 commentator Murray Walker will be providing a series of archive-based videos and written articles for every race of the 2013 season.
'Murray's Memories' are his personal recollections of some of the most dramatic moments in the history of F1. Here is what Murray has covered so far...
Brazil GP 2001
When Michael Schumacher was setting his amazing records, the general view was that they would stand for a very long time indeed, and may never be broken.
1990 United States GP
In 1990 the Arizonans who preferred watching flightless birds to the world's greatest cars and drivers missed an epic performance. It was Gerhard Berger's first race for McLaren and the Austrian started from pole position, with team-mate Ayrton Senna only fifth. But it was Jean Alesi, fourth on the grid, who brilliantly thrust his Tyrrell into the lead at Turn One.
European GP 1999
The 1999 European Grand Prix at Germany's Nurburgring was one of the craziest I can remember. The drama began at the start when Pedro Diniz barrel-rolled his Sauber over Alex Wurz's Benetton, bringing out the safety car immediately.
1990 French GP
The history books will remember 1990 as the year of Ayrton Senna and Prost, McLaren and Ferrari, but at the French Grand Prix there was a major and unpredictable upset.
Japanese GP 1994
The 1994 title fight between Benetton's Michael Schumacher and Williams's Damon Hill was on a knife edge - Hill knew he had to beat Schumacher to ensure he went to the final race in Australia with the best chance of the title.
Nigel Mansell
Who's the most daring racer of them all? Everyone will have their opinion, but my vote goes to 'Our Nige' - Nigel Mansell.
Detroit GP 1982
Northern Irishman John Watson won the race from a lowly 17th on the grid in Detroit in one of the most dramatic races ever.
Italian GP 1995
The season's title fight was effectively a three-horse fight between Michael Schumacher's Benetton and the Williams drivers Damon Hill and David Coulthard. And unfortunately for Williams, Schumacher was at his brilliant best.
Belgium GP 1998
On the pit wall, Eddie Jordan had visions of his team's first win - and a one-two at that - ending in a pile of twisted metal and broken carbon-fibre as Michael Schumacher tried to wrest the lead from Hill.
Hungarian GP 1997
Well on the way to winning the world championship, Damon Hill was told only at the end of August 1996 that he was surplus to requirements in 1997.
German GP 2000
It was tears at the chequered flag as Ferrari number two Rubens Barrichello for once took centre stage.
British GP 1994
Michael Schumacher was black flagged as Damon Hill took the win in one of the most controversial races in Silverstone's history.
Canada GP 1999
Three world champions lost their love of Montreal as the tricky final chicane caught them out.
Monaco GP 1982
There have been exciting grands prix, dramatic grands prix and amazing grands prix. But if you were to pick the craziest, you would have to go for Monaco 1982.
Spanish GP 1986
The Spanish Grand Prix in 1986 was a real thriller that produced one of the closest finishes in F1 history.
French GP 1979
It was a landmark race - Jean-Pierre Jabouille's victory in his Renault was not only his and his team's first ever in F1, it was also the first by a turbo-charged engine. And it set the tone for an era that was to last for the next decade.
European GP 1993
Ayrton Senna was the central figure in some of the best races I have ever seen - and the man responsible for what was by common consent the most amazing opening lap in the history of Formula 1.
Malaysian GP 1999
The track in Sepang is agreed by the drivers to be one of the very best - and there have been some cracking races there - but none of them matches the very first in 1999 for drama.
Australian GP 1986
In one of F1's defining moments, Nigel Mansell's left rear tyre exploded at maximum speed on the long back straight and, as he fought for control in a huge shower of sparks, he and the world knew his title hopes were over.