Lewis Hamilton: Team orders, tactics and a dream start
Last updated on .From the section Formula 1516
In his latest column for BBC Sport, Lewis Hamilton talks about taking team orders, working overtime and loving life at Mercedes...
Team orders in Formula 1 are in the news at the moment, for obvious reasons, and it is a more difficult and complicated subject than you might imagine.
I have experienced both sides of team orders and I understand both the positives and the negatives.
When Fernando Alonso was my team-mate at McLaren in 2007, in the first half of the season, I was a number two driver in the eyes of the team and it got a little bit in the way of my opportunity through the year.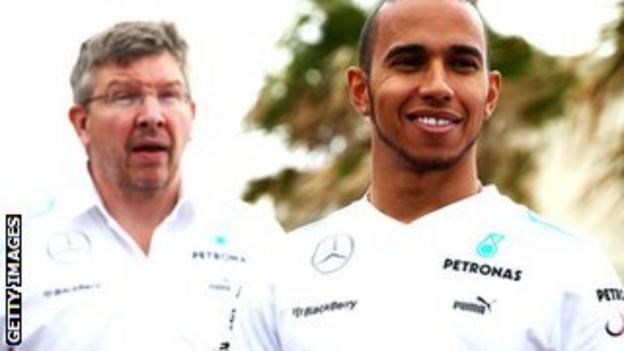 But there are also positives to working as a team. In 2008 at Hockenheim we had an agreement between myself and my team-mate Heikki Kovalainen.
I was fighting for the championship at the time. I was quicker than Heikki and was coming through the field, so he let me past because he knew it was what was best for the team and best for me.
But I have also been in the same situation as Mark Webber and Sebastian Vettel were in Malaysia.
In Turkey 2010, I led the race and was told to back off to save fuel and that Jenson Button had also been told to back off and hold position. Then Jenson overtook me, just as Sebastian did to Mark.
That was tough. So I understand the feelings Mark had. I got my position back but it was a risky manoeuvre, which could have caused us both to not finish the race.
There are many reasons teams sometimes want to tell the drivers to hold position.
So when you have team orders you have to be able to rationalise it, hope it is for the right reasons, and stick to it.
For us in Malaysia, the fact of the matter was, Nico Rosberg and I had both been fuelled with the expectation that it would rain for longer than it did. When it's wet, the car uses less fuel, so the team gave us a smaller fuel load than they might have done for a dry race.
I was fighting with the Red Bulls so I used more fuel during that period to try to keep up with them. In the final stint, Nico and I were both in a position where if we kept fighting we would have struggled to finish the race.
So the team took a decision with the information they had that the best thing was to bring the cars over the finish line in the positions they were in at the time.
The team did themselves proud. Nico did himself and the team proud, finishing one place behind me in fourth.
It was an awkward position for me because I don't like to be gifted anything. Every point, every position I have ever raced for in my whole life I have earned.
While for at least three-quarters of that race I had earned that position, during that last little part it felt weird that Nico was all over me and then we were told to hold position. It didn't feel real for me.
For days afterwards, I didn't feel good about it. I felt very awkward about the situation - I even emailed my team principal Ross Brawn a couple of times telling him I didn't feel very good about it.
But the way I move on is that I will work my backside off to make sure I am not in that position again.
It just so happens that I went to the factory on Sunday. I got my guys, instead of having a nice day at home, to come in and work overtime with me.
We worked in the simulator on fuel strategies, fuel saving and so on, and I think people will see the difference in the coming races.
You can always improve and this is one of the biggest steps I have made and I am quite excited about using what we have learned.
Part of the Mercedes dream team
It has been a dream start to the year for me at Mercedes. It was such a huge decision for me to come to this team - especially when I knew I had such a good car at McLaren, and from what I could see it looked like they would have another good car this year.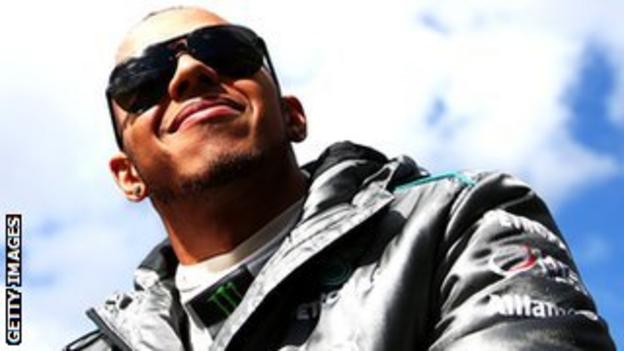 To leave that and go somewhere where the car was potentially two seconds off was a really tough decision for me. But I think I moved for the right reasons.
People couldn't see that, and they said I only went for one thing, which was money. But the fact is I had more money offered to me at McLaren so it wasn't a money situation. It was the sheer experience and trying to optimise my capabilities somewhere else.
Naturally, I still have a real soft spot for McLaren. They got me to F1, there will always be a place for them in my heart and I would never wish anything negative on them.
It is sad for me to see they are struggling this year and I have no doubt they will improve and get back to the front.
But I am only focusing on myself and the team.
I've realised Mercedes have made a huge step in developing the car and we are able to compete with Ferrari and Red Bull.
It is just the most satisfying experience and maybe we are not winning just yet but I see a great future for this team.
I couldn't be happier with my decision.