Lewis Hamilton column: How keeping it simple makes me faster
Last updated on .From the section Formula 1384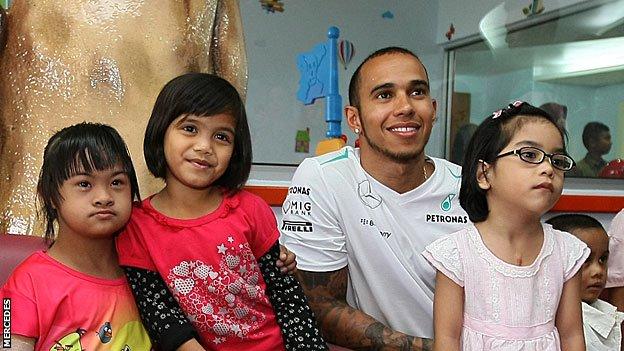 In his second column for BBC Sport, Lewis Hamilton talks about simplifying his life, working with children and his journey so far with Mercedes...
One of the key ways I like to approach my life is to keep things as simple as possible because when it's not simple, it can be stressful, and when you're stressed you're not working at your best.
Whether it's with my engineers in the team, my home life, or my friends, I don't like things to get complicated - and one good example would be the steering wheel in my Mercedes Formula 1 car.
The first time I sat in the cockpit I thought the steering wheel was way too complex.
There were 26 switches and buttons, compared to my previous steering wheel, which might have had about 10.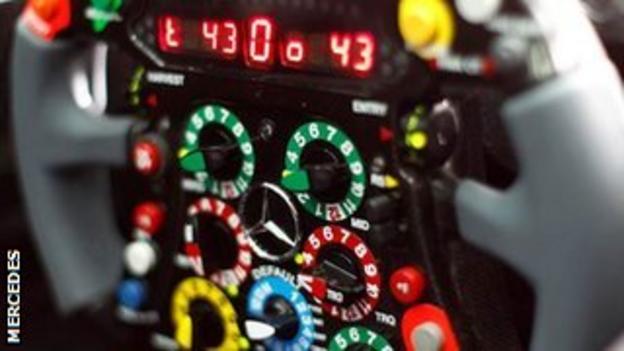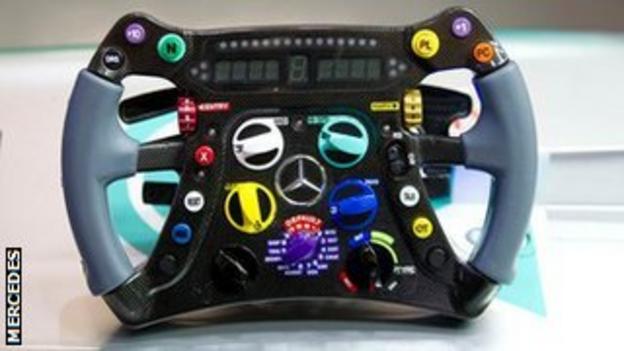 I was thinking: "Jeez, when am I ever going to get on top of all this?"
And then my next question was: "What do I need out of all the stuff you're providing me with, and what can I do without?"
I still want to be able to change my car settings - but because I'm coming to a new team I need to quickly learn and I want to have just what I need and not extra stuff that I will only need once in a blue moon.
When I'm driving, the fewer distractions there are, the better it is to focus on the job in hand.
If the engineers could, they'd give you 40 buttons, but when you're driving it's not that easy to use them all, so it's better to have the ones you really need.
The key thing is to make it simpler without getting rid of stuff that I might need to make the car go quicker.
I'm also thinking about trying to lose weight from the car - the fewer buttons we have on the steering wheel, the less weight we have on it, and we can put it in other places.
So, instead of tons of different buttons, we now have default switches - on one button you can access three or four different settings.
In terms of switches and dials, I have taken off three from the back, two off the front, and removed one of the rotary dials.
Instead of a brake-bias button, we now have a red switch with 'X' on it, and all I have to do is press it and see what my brake bias is. And I have three different settings rather than six or seven. The clutch bite-point is on the same button.
In total, that might be 100g, which doesn't sound like much, but it all counts in an F1 car.
Even then, the current steering wheel we have is still too complicated for my taste, so I am working on designing a new one, which we will have next year.
It's the same thing in everyday life. Everyone has complicated lives, but the more you can simplify it and make it work for you, the better it is going to be.
With my training, for example, I make it so I enjoy it, so it is not a stressful event for me.
F1 drivers have to be very fit, but there are different ways of getting to the same goal.
So, on Thursday in Malaysia rather than going to the gym, I did my training by playing tennis, because it was fun and still a good workout.
Visiting a Malaysian children's hospital
On Wednesday, I visited Malaysia's National Heart Foundation, a hospital for kids who have had heart problems.
I met all these children who had had heart surgery at such young ages. I wasn't aware of the sheer scale of the operations that were happening on a daily basis. Just in this area there are 15 operations a day on babies and kids.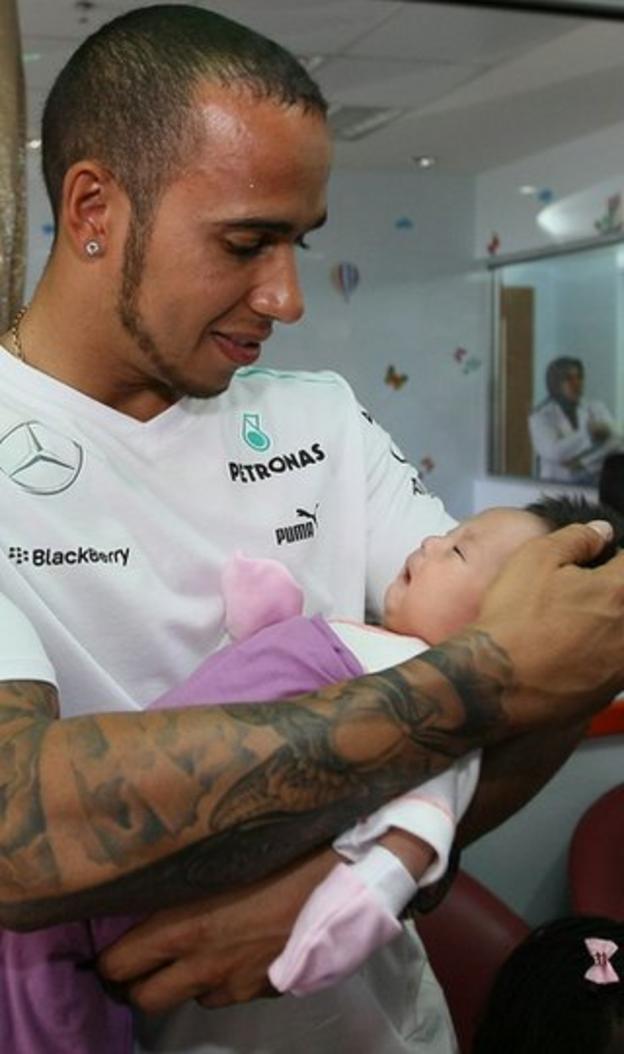 I was really affected by it because I've been through it with my cousin.
She's now 17, but she had a hole in her heart when she was born and had to have open-heart surgery.
Unfortunately, they didn't get oxygen to her brain quick enough and now she has slight brain damage. I remember what it was like being in the hospital with her, and I really connected with the people we met.
Working with kids is something I really enjoy doing - that's why I also do work with Unicef.
There is nothing better than seeing a kid smile, and to see what they're going through really puts your own life into perspective.
By me being there, firstly, I hope I can put a smile on a kid's face. I was able to do that for some of the parents.
But I can also raise awareness because I'm sure there are lots of people who don't even realise there are kids all around the world dying every day who don't need to.
The way I look at it - and this applies to everything I do - it is like dropping a pebble into a pond, and the ripples continue for some time.
A positive start to the season
The Australian Grand Prix went pretty well for us. It was a job well done, but one of the most satisfying aspects of it was that there is more to come from the car.
I read some comments from fans that they were surprised I was happy with fifth. Of course I'm a winner and I want to win. But I came into this year thinking we might be 15th - you never know where you're going to be considering we were so far off last year. So to see us so high up was a blessing.
Life isn't always about winning; it's about the journey in between, and I'm on a great path with this team.
The car felt good; I just didn't have it set up properly. I think if I get it set up properly in Malaysia this weekend I can get so much more out of it.
I feel the car is going to handle great here and I think the underlying pace of the car is strong.
Thanks for taking the time to read my column and be sure to follow me on Facebook and Twitter, so I can share some more cool pictures with you.