Lewis Hamilton happy about Mercedes's prospects for 2013

By Andrew Benson
Chief F1 writer
Last updated on .From the section Formula 1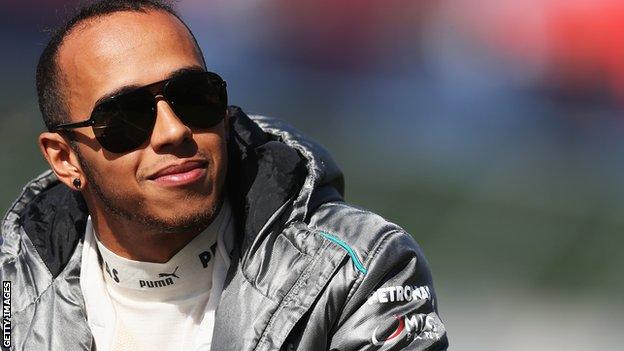 Lewis Hamilton says he is "very optimistic" about the prospects for his new Mercedes team this season.
"I came away with 10 points and I'm really happy with that," he said.
"When I made the switch [from McLaren] I didn't know where we would be but I definitely didn't think we'd come away from the first race with 10 points."
Hamilton said he was sure the team would be able to repeat that result and improve on it in the future.
"[I have] the feeling that that's not going to be just a lucky shot," he said.
"It's something we can try to continue through the rest of the year. The top teams are really good at developing the car and moving forward really fast. I think that is something the car is learning to do."
Hamilton said his confidence is boosted by the fact Mercedes did not get the best out of their car on a weekend affected by rain.
"Overall I think we struggled less [than expected]," he said.
"The car performed really well. It was not the easiest of weekends with the weather coming in and out.
"It was new for the team and for me working with the engineers, so it was all in the air and we were trying to catch the balls as much as we could.
"We were strong in a lot of places. I really don't feel we extracted the most from the car so coming here [to Malaysia] I feel really positive and optimistic about the weekend."
Hamilton's former team McLaren struggled in Australia and they have accepted they face a long, hard battle to get back to the front.
Jenson Button, who finished ninth in Australia, said McLaren would not be in a position to fight for victory in Malaysia this weekend.
"For us at the moment, the important thing is to keep working and see what we can do with development and a direction, taking every day as it comes," he said.
"This weekend we're not going to be winning grands prix, so it's not suddenly going to come good, but we can find a step forward. It's about developing as much as we can, as quick as we can."
He admitted McLaren did not have a complete understanding of the problems with the car.
"Some of it yes," he said. "A few of the midfield teams that would normally be behind us are also very surprised by how quick some of the cars are.
"And I think that has surprised us just as much, as to how we're not getting the performance we thought we had. I think we have a reasonable understanding of what we need to do, but not 100%."
Asked whether there was a sense of panic about the team, Button said: "I wouldn't use that word, but we're working hard to get back to the front because this is not where we expected to be and it's definitely not where we should be."
And he said a title challenge was already unlikely.
"If Kimi [Raikkonen, who won the first race for Lotus] doesn't finish in the points again and the next guy that wins doesn't finish in the points again there might be an opportunity," he said.
"If Kimi goes and wins the next four races, he's going to have a 90-odd point lead over me so it's going to be tricky, but the good news is there are a lot of teams who are reasonably competitive and they are going to take points off each other.
"Lotus and Kimi did a great job in the race. A lot of people will have learnt from what they've done and [Malaysia] is a very different circuit with the conditions so I think you'll see a different winner here."