McLaren sorry for Mark Webber engine control unit error
Last updated on .From the section Formula 1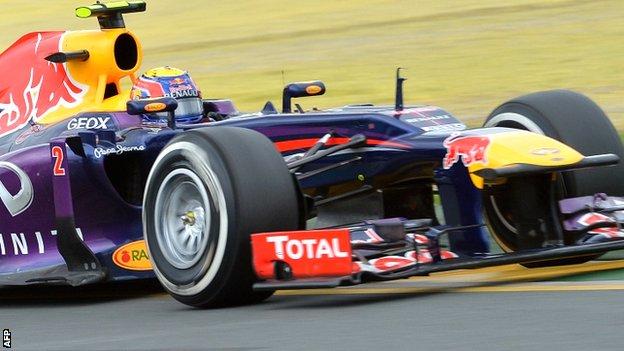 McLaren have apologised to Red Bull after the engine control unit they supply caused Mark Webber to start badly at the Australian Grand Prix.
Webber qualified on the front row for the opening race of the season last weekend but dropped to seventh after the first lap and was eventually sixth.
A software-related issue meant the Australian's car garage data system had to be re-started in the formation lap.
"That disrupted his preparations and they have our apology," McLaren said.
"We are working together with Red Bull to prevent any recurrence."
McLaren Electronics Systems make the standard ECUs for all F1 teams plus NASCAR and IndyCar outfits in the United States and the 2013 edition is a new version of one that has been used since 2008 without a problem.
It was run for the first time by most teams in winter testing in February and will also be used next season when a change in regulations ushers in 1.6 litre V6 turbocharged hybrid units.
According to McLaren, the engine control unit is a "very complex piece of equipment".
It controls the powertrain and DRS (drag reduction system), acting as a car's primary data system.
The Australian Grand Prix was won by Kimi Raikkonen for Lotus. The next race takes place this weekend in Malaysia.