Jenson Button: frontrunners for new season hard to call

By Andrew Benson
Chief F1 writer
Last updated on .From the section Formula 1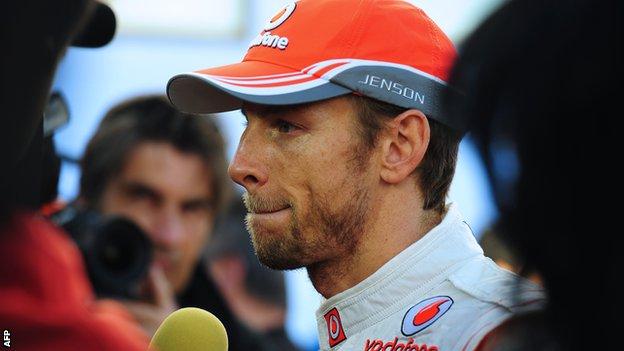 McLaren's Jenson Button says the whole of Formula 1 is in the dark over who will be setting the pace at the first race of the season next weekend.
Button said: "This year, I don't think any team really knows or understands the competitive order.
"It's been an extremely hard-to-read winter but that's part of the game."
Button said that problems all the teams had experienced with making tyres last long distances plus the fact teams do not reveal what fuel loads they are running meant it was "hard to accurately predict who'll arrive in Australia with the best-sorted car".
He added: "One of the most fascinating things about Formula 1 is the way it resets itself each and every winter.
"I've seen every side of that. You can have a terrible winter of testing, then turn up at the first race and be competitive. Equally, you can look impressive in winter testing and be nowhere in Melbourne.
"If you're lucky, it all comes together in the tests and you hit the ground running at the first race. That's always the goal.
"The start of a new season is always exciting as it's the culmination of months of hard work and planning.
"I've had some great experiences in Melbourne, having won the race three times, and I love the place.
"There isn't a better location in the world to be kicking off what will no doubt be a fiercely competitive world championship."
McLaren have had an up-and-down winter. The car has looked quick on occasion, but Button has also admitted that at other times it has not been fast.
Button is joined at McLaren this season by Mexican Sergio Perez who replaces Lewis Hamilton, now at Mercedes.
Perez, who joined McLaren from Sauber, said he had "never worked harder over a winter to be ready for a new season and I'm confident I've done everything within my reach to be ready".
Team principal Martin Whitmarsh conceded that McLaren had faced "a challenging few weeks preparing our new MP4-28 for the 2013 season".
He said: "The often cold and sometimes wet conditions we experienced during pre-season testing in Barcelona and Jerez made it difficult to operate the tyres consistently within their optimal performance window. That issue, combined with a handful of typical testing setbacks, gave us a few headaches."
But he added that the car was "a new and uncompromising design that we intend to develop aggressively throughout the year".