Formula 1 gossip and rumours from international media
Last updated on .From the section Formula 1
TUESDAY 2 APRIL
Jenson Button says he still believes he can be world champion this year, despite McLaren's poor start to the season.
Caterham reserve driver Alexander Rossi will replace Giedo van der Garde in practice one at the Bahrain Grand Prix on 19 April.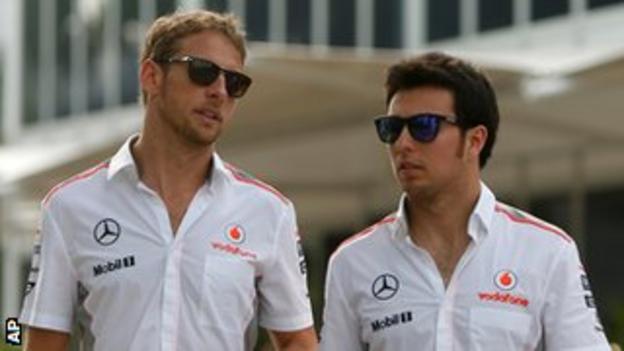 McLaren team principal Martin Whitmarsh says he is impressed with Sergio Perez's attitude after his team's difficult start to the season.
F1 president and CEO Bernie Ecclestone has failed to deny speculation that Sainsbury's chief executive Justin King could take over his position.
SUNDAY 24 MARCH
F1 boss Bernie Ecclestone says that when Lewis Hamilton wanted to find a new team for this year, the 28-year-old British driver asked him to broker a move for him to join Red Bull alongside Sebastian Vettel.
Ecclestone also said the Brazilian Grand Prix could switch to Rio de Janeiro within the next three years.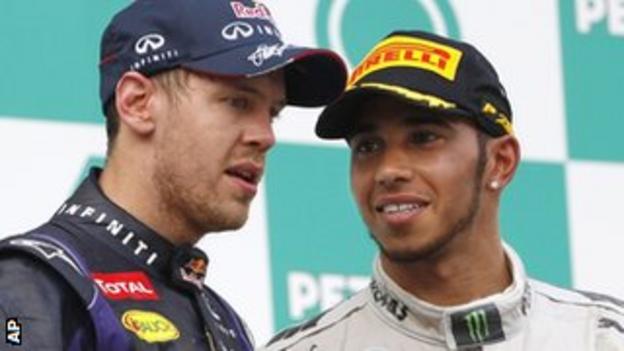 McLaren's team boss Martin Whitmarsh has admitted responsibility for going into the new Formula 1 season with an uncompetitive car.
Three-time Formula 1 champion Jackie Stewart thinks McLaren can bounce back from its early-season woes and challenge for this year's drivers' championship.
Mercedes technical director Bob Bell says Hamilton has been as "a motivational force" following his arrival as a replacement for seven-times champion Michael Schumacher.
Ex-Renault driver Robert Kubica has crashed out of a comfortable lead at the Rally Canaries.
THURSDAY 21 MARCH
David Coulthard has urged Sebastian Vettel to leave Red Bull, saying he will never achieve greatness if he doesn't win a title with a different team.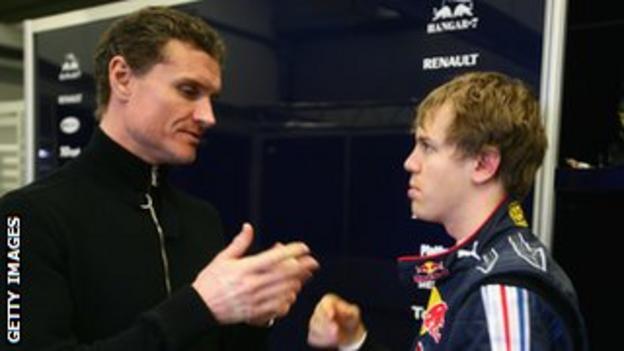 Kimi Raikkonen says Lotus's approach to the Malaysian Grand Prix will not be altered by the fact he is heading into the event as championship leader.
Jenson Button says the situation Fernando Alonso faced last year is proof McLaren can bounce back from their own nightmare start to the season.
Valtteri Bottas says he wants to stay close to his team-mate Pastor Maldonado throughout the start of the season.
WEDNESDAY 20 MARCH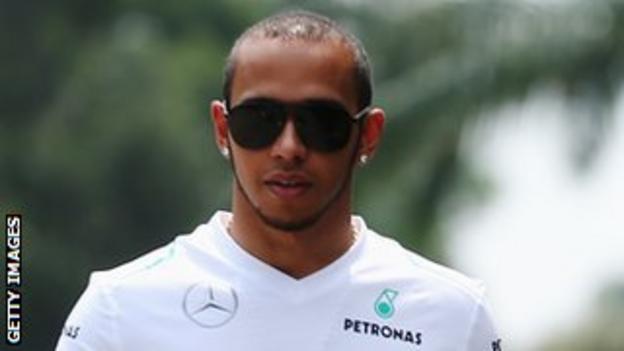 Lewis Hamilton believes he is no longer in need of the "bubble" he once desperately craved to protect him in his times of trouble.
Mercedes insists that it has not yet finalised the role that Paddy Lowe will take when he arrives at the team next year.
Max Chilton says he is keen to make his previous experience of Sepang count when he contests his second F1 race this weekend in Malaysia.
THURSDAY 14 MARCH
Christian Horner says he would never hire Lewis Hamilton as Sebastian Vettel's Red Bull partner.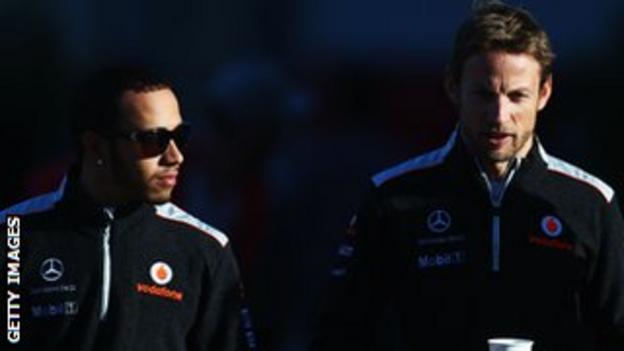 Jenson Button says former team-mate Lewis Hamilton could not be more wrong in his criticisms of the team and how it treats its drivers.
Mark Webber says winning his home grand prix "would be a sensational feeling" but has warned the first race of the season is always tough to execute.
Williams will run back-to-back tests of its new sidepod design during Friday practice for the Australian Grand Prix before it commits to racing it.
Ferrari insists it is happy with its technical structure, despite not having a high-profile figure like Adrian Newey in the limelight.
Mercedes team principal Ross Brawn believes Lewis Hamilton is already comfortably filling the void vacated by Michael Schumacher.
THURSDAY 7 MARCH
Ferrari team boss Stefano Domenicali says he believes they are "on the right path at last" and that "unless someone else has done an exceptional job I'm convinced that Ferrari will be in the (title) battle to the end (of the season)."
Ferrari chief designer Nikolas Tombazis says the hierarchy between top teams Red Bull, Ferrari, McLaren, Lotus and Mercedes is "still uncertain".
Ferrari's Fernando Alonso, McLaren's Sergio Perez and Toro Rosso's Daniel Ricciardo were among the drivers visited by doping testers early on Tuesday morning.
Sergio Perez says winter testing with McLaren has convinced him that it is realistic to have lofty ambitions for his maiden Formula 1 campaign with a top team.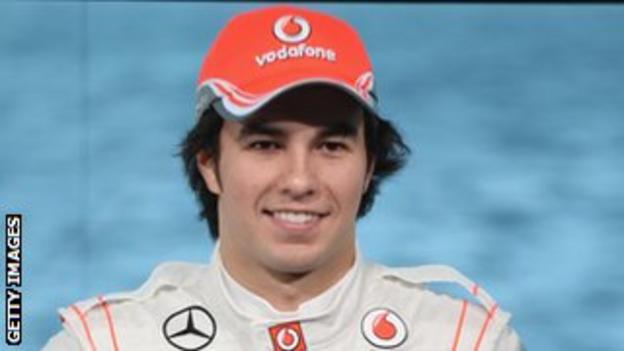 Jenson Button says McLaren still have "some work to do on outright pace but we're working on that".
Customer Formula 1 teams are baulking at the raised costs demanded by engine manufacturers for the new turbo engines that will be introduced next season, with Renault asking for £17m - double the cost of this year's V8s.
Full story: Autosport magazine
Lewis Hamilton says he is planning to do a chat with his fans next weekend on the social networking site Twitter.
Force India's Paul di Resta has flown to India on his way to the Australian Grand Prix to fulfil some PR activities for his team.
MONDAY 4 MARCH
Jenson Button has been told to quickly stamp his authority on Sergio Perez and not allow his new McLaren team-mate to get too cocky.
Full story: Daily and Sunday Express
Bernie Ecclestone has granted Lewis Hamilton's dog a paddock pass so that it can travel with the Mercedes driver to races.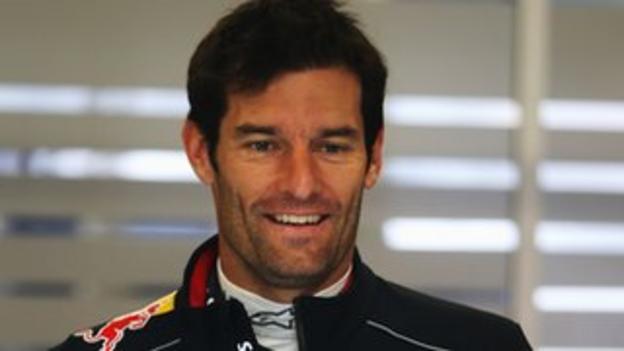 He may be 36-years-old with only a 12-month Red Bull contract to his name, but Mark Webber is pretty confident 2013 won't be his last season in F1.
Lotus' Kimi Raikkonen believes Mercedes will "surprise a few people" at the Australian Grand Prix after Lewis Hamilton and Nico Rosberg set the fastest times on the final two days of testing at Barcelona.
Caterham have announced that Hari Roberts, who previously worked with Jordan, Renault and Lotus, has joined the team as Head of Aerodynamics.
THURSDAY 28 FEBRUARY
Marussia have confirmed they are on the lookout for a new engine partner for next year, after revealing that it expects Cosworth to pull out of Formula 1 at the end of 2013.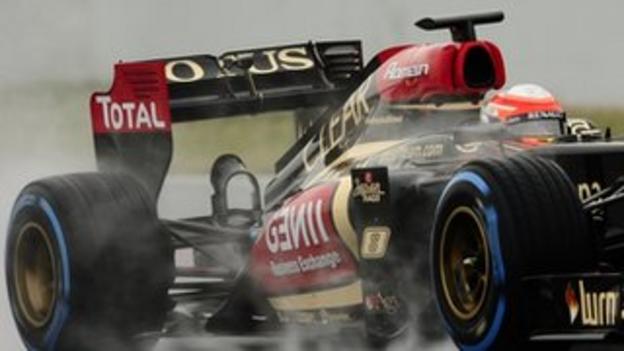 Pirelli motorsport boss Paul Hembery says the tyre company will need a decision "sooner rather than later" about whether its deal to supply the F1 grid will be extended into 2014.
Lotus looks set to begin the 2013 season without a title sponsor. Late last year, it emerged that the Genii-owned team was close to announcing a $30 million per year deal with Honeywell, the American technology giant. But last month, Switzerland's Speed Week reported that the deal is now "a way off".
WEDNESDAY 27 FEBRUARY
Adrian Sutil has won the second seat at Force India alongside Paul di Resta this season. He will drive at the Barcelona test on Thursday and will be racing in Melbourne at the first race on 17 March.
Full story: Sport Bild (in German)
Ferrari are unlikely to have the fastest car when the Formula 1 season starts in Australia next month, but they hope to be close enough for Fernando Alonso to make the difference, according to team principal Stefano Domenicali.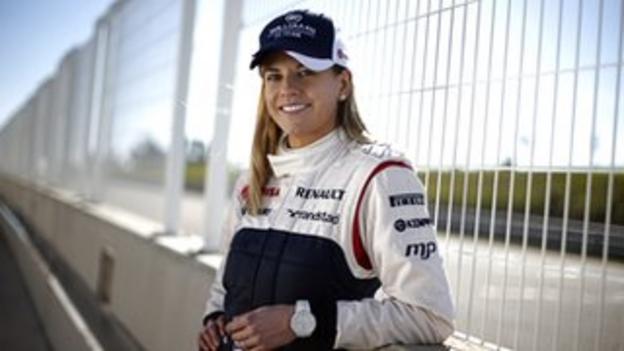 Red Bull have been criticised by the Advertising Standards Authority for sending competition winners on a "VIP trip" to the Belgian Grand Prix on which two brothers had to share a bed, stayed in a different country and had to leave the race early.
Susie Wolff is planning to get a Formula 1 'super licence' so she can become Williams's official Formula 1 reserve driver.
Formula 1 boss Bernie Ecclestone wants to keep the Australian Grand Prix in Melbourne for another 50 years.
Full story: Melbourne Hearald Sun
Finally Sauber's Nico Hulkenberg posted a novel way to keep warm during testing downtime on Twitter. "My guys were so kind to install a seat heating for today."
FRIDAY 22 FEBRUARY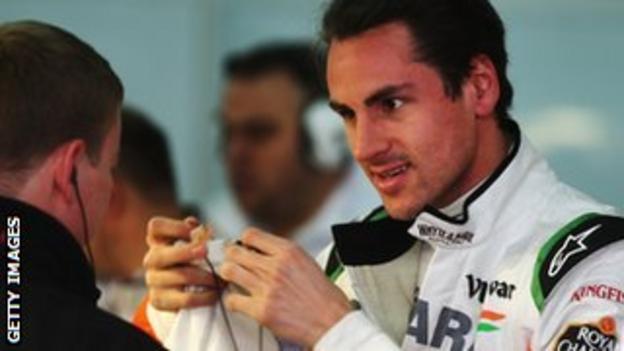 German Adrian Sutil says it's "business as usual" as he waits to find out whether he has done enough to claim the second Force India seat after testing for the team in Barcelona. The 30-year-old says he plans to focus on his training and have fun while the decision is made.
Toro Rosso driver Jean-Eric Vergne has compared the new Pirelli tyres to "cauliflowers". The Frenchman explained: "I used this expression in French quite a lot when I was in karting. I have only one lap [on the tyres], then you have a lot of graining."
Nico Hulkenberg is fitting in better at Sauber after getting some new race boots. The team thought they might have to change the chassis to squeeze the German in but it turned out he just had the wrong size shoes.
Full story: Auto Motor Und Sport (in German)
Ferrari has admitted that it is important to have a third team running its engine when the new 1.6-litre turbocharged V6 units are introduced next year.
WEDNESDAY 20 FEBRUARY
Prime Minister David Cameron visited the Caterham team's new headquarters in Leafield, Oxfordshire. Cameron described the decision of the team to move into the area, which is in his constituency, as "the dream development for any constituency".
Former F1 driver Robert Kubica will not join the DTM this season after Mercedes announced a six-car 2013 line-up with European Formula 3 champion Daniel Juncadella in the vacant slot that could have gone to the Pole.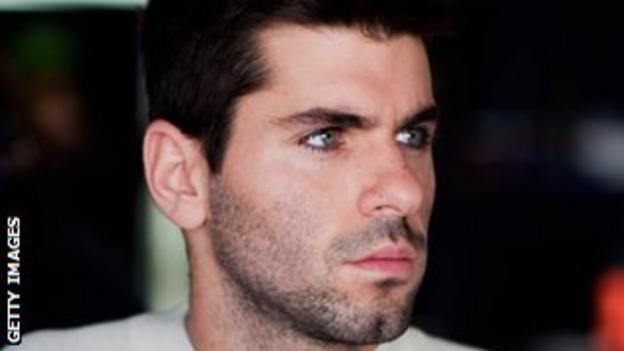 Former Toro Rosso driver Jaime Alguersuari is unlikely to race outside Formula 1 this season after failing to secure a return to the grand prix grid.
The Securities and Exchange Board of India (SEBI) has announced that it has asked banks in India to freeze bank accounts belonging to the Sahara group and some of its directors. Sahara is the part-owner and primary sponsor (in terms of livery) of the Force India F1 team.
Full story: Joe Saward's Grand Prix blog
TUESDAY 19 FEBRUARY
Leading Formula 1 drivers are predicting the 2013 season will start with higher tyre degradation and more pitstops than the early races of 2012.
Williams can "challenge the very best" in 2013 says team boss Sir Frank Williams, who is convinced his team can fight their way back into contention this season.
Williams technical director Mike Coughlan has described Pastor Maldonado as "a great asset" to the team.
THURSDAY 14 FEBRUARY
Adrian Sutil is expected to become the second Force India hopeful to run with the team in pre-season testing, following reports of a seat fitting at the its Silverstone base.
Pedro de la Rosa is willing to stay on as chairman of the Grand Prix Drivers' Association (GPDA) for 2013 now that he has switched to a development role with Ferrari.
Ferrari driver Fernando Alonso has been appointed an "honorary ambassador for 'brand Spain'. The 31-year-old said he was "proud".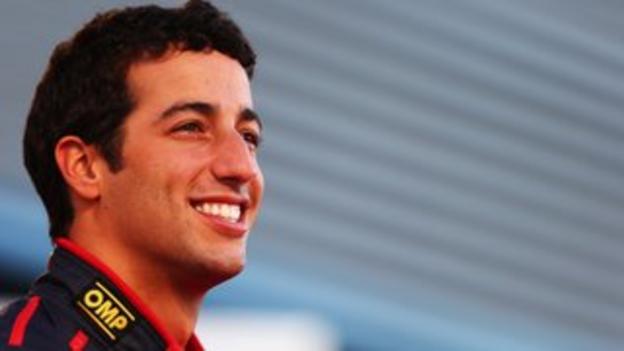 New Mercedes motorsport chief Toto Wolff admits that he is excited by the driver line-up assembled by the marque's F1 squad for 2013.
Daniel Ricciardo is refusing to rule out claiming a win this season, saying Sebastian Vettel proved back in 2008 that anything is possible.
WEDNESDAY 13 FEBRUARY
New Mercedes motorsport director Toto Wolff says he is not afraid to make changes to ensure the Formula 1 team is successful. "If it is not going in the direction I want, I will implement the structure that I think will work," he said.
Sauber team principal Monisha Kaltenborn has laughed off suggestions that F1 should introduce a transfer system, so that smaller teams can be compensated when developing drivers move on.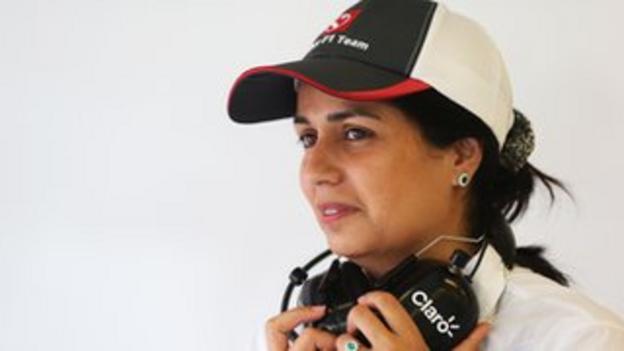 F1 could be heading to the Middle East for pre-season testing next year. Pirelli's Paul Hembery said the Jerez circuit, the scene of last week's opening test of the 2013 pre-season, is no longer suitable for winter running.
Pirelli has also chosen the tyre compounds that will be used at the first four races of the season. In Australia, teams will have the medium and super-soft to choose from; in Malaysia, the hard and the medium; in China the medium and the soft; and in Bahrain the hard and the soft.
Lotus driver Romain Grosjean plans to cut out the crashes this season after telling the rest of the grid he is learning to be patient.
Mark Webber has dismissed speculation that he will make a move to endurance racing with Porsche in 2014.
Formula 1 boss Bernie Ecclestone says that none of F1's 11 teams is at risk of collapsing despite the weak economic climate. "They've all got more money than God," he said.
Timo Glock believes his former team Marussia faces a tough task to move up the Formula 1 order with an all-rookie line-up this year.
TUESDAY 12 FEBRUARY
The new Williams-Renault FW35 has passed the final crash test ahead of its track debut at next week's Barcelona test. Williams ran its 2012 machine in last week's test at Jerez to focus on evaluating the 2013 Pirelli tyres.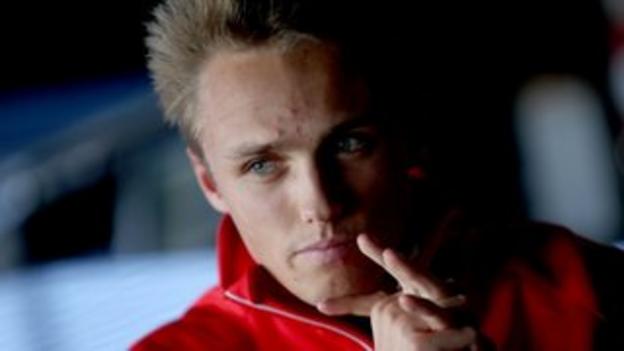 F1 boss Bernie Ecclestone says no more teams are set to follow HRT through F1's paddock exit.
British rookie Max Chilton has admitted he would have preferred to have Timo Glock as his Marussia team-mate in 2013.
Chilton, meanwhile, tweeted that he is "currently sat having ears moulded for my new ear pieces and can't hear people talking around me which is very odd".
Meanwhile, his new Marussia team-mate, Luiz Razia, is acclimatising to British traditions on Twitter: "While Brazil is on fire with parties and massive concerts of music and happiness, in UK we have the pancake day ... :))) almost the same."
Former Sauber and Toyota driver Kamui Kobayashi will get behind the wheel of a Ferrari 458 Italia in Spain this week - the Japanese driver has been handed a test by AF Corse.
Meanwhile, Kobayashi's former boss Monisha Kaltenborn says she is surprised the Japanese can't get support "from such a motorsport-loving nation like Japan".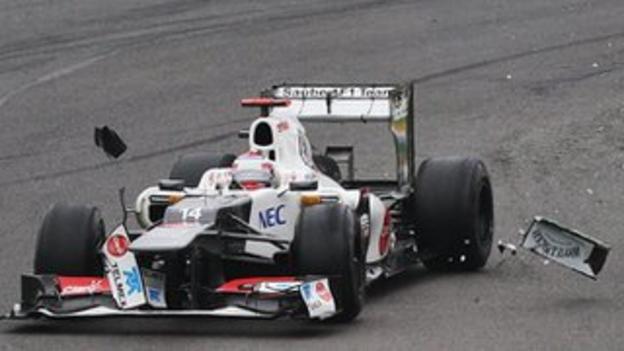 Mark Webber will be 37 this year, but his former Red Bull team-mate David Coulthard says the Australian could continue in Formula 1 for several years.
Full story: The West Australian
McLaren's Martin Whitmarsh believes a "conservative" approach towards hiring drivers has diluted the current talent pool in F1. "For me, personally I think it's sad that there are so many pay drivers in Formula 1. The numbers have crept up", Whitmarsh was reported saying to Dutch publication Formule1.
Pastor Maldonado has high hopes for the 2013 season as he believes Williams will be able to give the top teams a run for their money.