Kimi Raikkonen gives entire Lotus team radio message T-shirts

By Andrew Benson
Chief F1 writer
Last updated on .From the section Formula 1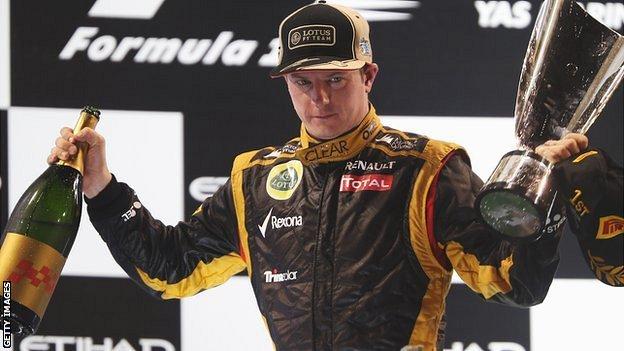 Kimi Raikkonen has given his entire Lotus team T-shirts emblazoned with his now-famous radio message during his Abu Dhabi Grand Prix victory.
On Friday 500 T-shirts carrying the slogan: "Leave me alone, I know what I'm doing" arrived at the factory.
The T-shirts are black, with the words in gold, reflecting the team's colours.
The phrase is a reference to Raikkonen's remarks on team radio during the race.
Raikkonen inherited the lead when Lewis Hamilton's McLaren retired with fuel-pump failure.
Following Hamilton's retirement, Raikkonen's engineer Simon Rennie told him his advantage over second-placed Fernando Alonso's Ferrari and that he would keep him updated on the Ferrari's pace, to which Raikkonen responded: "Just leave me alone, I know what I am doing."
Later, he was reminded to warm up his tyres while driving behind the safety car, and Raikkonen said: "Yes, yes, yes, yes. I'm doing it all the time. You don't have to remind me every second."
After the race, Raikkonen said: "I understand the team is just there to try to help and they are doing the same job as I am doing.
"But I am not a big fan of being told many things because I know pretty well what I have to do [and] what is going around, so if I have some questions I will ask and they will help.
"It's not the first time and it's not the last. It's just a normal thing. People will probably try to make a big story out of it, but it happens every weekend."
Raikkonen, a notoriously singular character, said after the race that the victory meant more to the team than it did to him.
"It's great. It's more important for the team and the people who work here. They do all the hard work," he said.
"I just try to deliver on a Sunday and a Saturday. It is one win for me but for them I think it is a much bigger thing."
Raikkonen's last victory was in the 2009 Belgian Grand Prix, when he was driving for Ferrari.
The Italian team paid him off a year early at the end of that season to make way for Alonso's arrival, and Raikkonen spent two unsuccessful years in rallying before returning to F1 with Lotus this season.
He is third in the championship behind Red Bull's Sebastian Vettel and Alonso with two races of the season remaining, but is out of contention to win the title.