Japanese GP: Kobayashi confident he can retain 2013 Sauber seat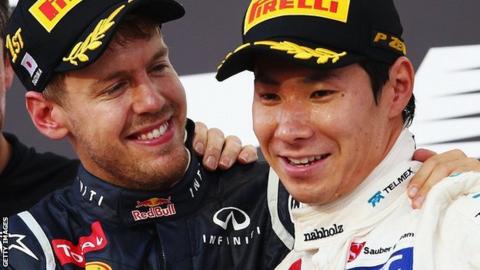 Sauber driver Kamui Kobayashi is confident he will retain his seat at the team next year.
The Japanese's future has been in doubt but he said after taking the first podium of his career in his home race on Sunday that he expected to stay on.
"I don't think I [will] lose my job," the 26-year-old told BBC Sport.
"I was a couple of times close to the podium [this year] but always had some bad luck. First time I get it, it's here. Maybe it was destiny."
Kobayashi started the Japanese Grand Prix from third on the grid.
He ran second in the early laps ahead of McLaren's Jenson Button and Ferrari's Felipe Massa.
The Brazilian passed them both by making his first pit stop later but Kobayashi managed to hold off Button, despite strong pressure, for the rest of the race.
His name was chanted by thousands of Japanese fans as he stood on the podium - the first time a Japanese has been on the podium at their home race since Aguri Suzuki in 1990.
"I feel really good," Kobayashi said. "Of course I think the race was very difficult, but after I get podium and have champagne.
"Normally I feel bad with champagne smell but I feel good now. My race was pretty tough. It was difficult to hold my pace. Finally I held Jenson and it's amazing. Special."
Japanese Grand Prix 2012, day three
Sunday, 7 October:

Race highlights on BBC One 14:05 BST and online. Repeated Mon 8 Oct at 00:35 BST on BBC Two.