Doubts remain over New Jersey race as F1 reveals 2013 calendar

By Andrew Benson
Chief F1 writer
Last updated on .From the section Formula 1
Formula 1's governing body has published next year's calendar - with the new American race in New Jersey still in doubt.
The schedule is similar to one leaked last weekend at the Singapore Grand Prix, with the exception of the dates of four races.
The Korean and Japanese races have been swapped and will now be held on 6 October and 13 October respectively.
Races in Germany and Belgium have been moved to 14 July and 25 August.
The British Grand Prix has been confirmed on 30 June, a week earlier than this year. It will also avoid a clash with the Wimbledon men's final.
The FIA has also ratified the 2013 rules, with only minor changes from this year.
The main one is the introduction of what the teams have come to call a "modesty panel" to hide the ugly lumps on cars' noses that have sprouted this year.
These arose from a rule change demanding lower noses, but the continuation of the chassis bulkhead at its previous height.
This height change of 125mm happens over a relatively short distance and has led to what have become known as "platypus" noses.
For next year, teams will be able to cover these with faring made of laminate to ensure the cars are more attractive.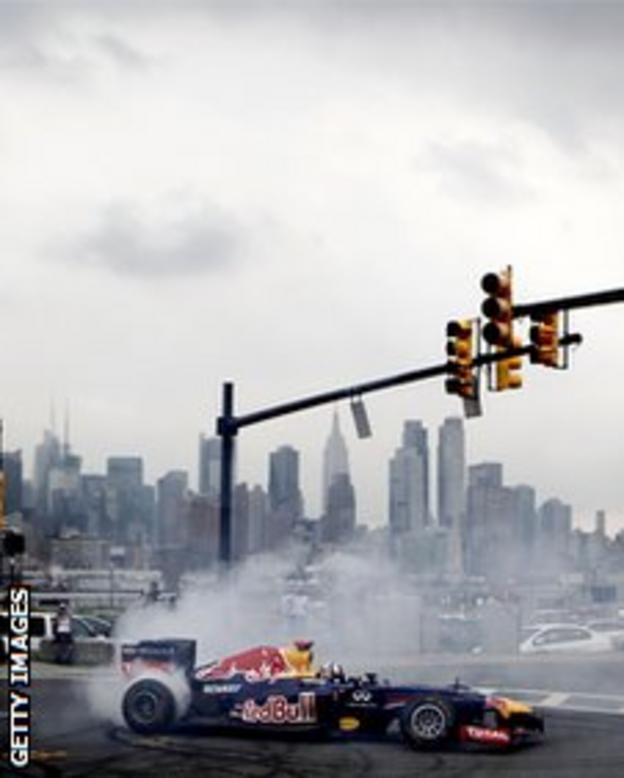 That means they will resemble more this year's McLaren - which has a lower nose - than this year's Ferrari, which has a step.
But it means those teams with higher noses - everyone except McLaren and Marussia - will be able to stick with them and gain the consequent aerodynamic benefits without the aesthetic penalty.
The developments emerged from a meeting of the FIA world council, F1's legislative body, on Friday.
The World Council added that "constructive discussions" were continuing over a new "Concorde Agreement" - the document that binds the teams, the FIA and the sport's commercial rights holders together.
"It is anticipated a contract will be signed by the end of October," an FIA statement said.
The New Jersey race is listed on the calendar as the "Grand Prix of Jersey, a change from its official title of "Grand Prix of America".
The doubts about the race arise from whether the track will be ready, and the fact that F1 boss Bernie Ecclestone told the Guardian on Tuesday that the organisers "have not complied with the terms and conditions of the contract, which is now gone anyway.
"They don't have a contract."
The New Jersey event is one of two US races on the 2013 calendar, joining the United States Grand Prix, which returns this November at a new track in Austin, Texas.
Ecclestone also cast doubts on that event but it will now take place as the penultimate event on 18 November.
The full 2013 F1 calendar is as follows:
17 March - Australia (Melbourne)
24 March - Malaysia (Sepang)
14 April - China (Shanghai)
21 April - Bahrain (Sakhir)
12 May - Spain (Barcelona)
26 May - Monaco
9 June - Canada (Montreal)
16 June - America (New Jersey) *
30 June - Britain (Silverstone)
14 July - Germany (Nurburgring/Hockenheim)
28 July - Hungary (Hungaroring)
25 August - Belgium (Spa-Francorchamps)
8 September - Italy (Monza)
22 September - Singapore (Marina Bay)
6 October - Korea (Yeongam)
13 October - Japan (Suzuka)
27 October - India (Buddh International)
3 November - Abu Dhabi (Yas Marina)
17 November - United States (Austin)
24 November - Brazil (Interlagos)
* Subject to confirmation