Andrew Benson's blog: Just what McLaren needed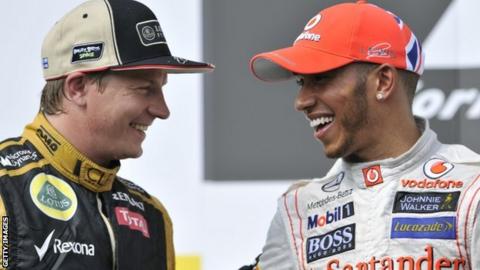 It was exactly the race Lewis Hamilton and McLaren needed heading into Formula 1's summer break - a controlled victory, impressively taken under intense pressure from the two Lotus cars, and a season back on track.
In the end, the Hungarian Grand Prix was much closer than even Hamilton's closest rivals expected it to be.
When he qualified nearly half a second clear of the field on pole position, Lotus did not really expect to be able to beat him in the race. But they came oh so close.
It was Romain Grosjean, second on the grid, who applied the pressure for the first 40 laps of the race, but somehow one always suspected that his team-mate Kimi Raikkonen would come into the frame sooner or later.
The Finn - who, it has to be said, has had a few lacklustre races in his comeback season - has been back on form since the British Grand Prix three weeks ago, and in Hungary he was the faster Lotus driver throughout the weekend.
Raikkonen should have qualified on the front row, but he underachieved in final qualifying, admitting he simply did not get his final lap together. Not for the first time either.
That relatively poor lap in the top 10 shoot-out - slower than he had gone in second qualifying - might have been the difference been victory and second place.
A further hindrance came as a result of an under-charged Kers power-boost system at the start of the race.
That left Raikkonen with less Kers on the first lap, which was almost certainly why he lost a place to Fernando Alonso, behind whose uncompetitive Ferrari the Finn then had to spend the first 17 laps.
The delay behind Alonso meant Raikkonen was 15 seconds adrift of Hamilton at that stage, rather than the 12 he would have been had he stayed ahead of the Ferrari at the start. Which in turn would have meant he started the final stint on Hamilton's tail, rather than four seconds behind.
It was, nevertheless, an extremely impressive drive by Raikkonen, especially in his outstanding second stint.
After rejoining following his first pit stop, he initially looked after his tyres, knowing he would then be able to unleash some pace at the end of the stint to make up ground and secure the podium position his car deserved.
It was a superbly controlled series of laps, and his pace at the end of it leapfrogged him past the three cars he had started the stint behind - Grosjean, Red Bull's Sebastian Vettel and McLaren's Jenson Button. Raikkonen consolidated second place with a robust but fair 'lean' on Grosjean at the exit of the first corner as he rejoined the race.
That long second stint also ensured Raikkonen had tyres that were five laps younger than Hamilton's for the final stint, and he quickly closed on the McLaren.
Hamilton, though, was not to be denied and he drove with a maturity that has been in evidence for the vast majority of this season to secure his second victory of 2012.
There should, though, have been more - as Hamilton himself knows only too well.
"We managed to do it," he said to his team over the radio at the end of the race. "I'm so grateful for all the effort you've put in. Let's try and keep this up, all right?"
Was that a statement of the obvious that they need to keep winning and developing the car to catch Alonso? Or a veiled reference to the various operational errors McLaren have made which have cost Hamilton in the region of 40 points this season?
A puncture in Germany last weekend lost him a few more, and Hamilton's collision with Williams's Pastor Maldonado in the closing laps of the European Grand Prix last month was also costly.
There are those in F1 - including former drivers - who believe Hamilton should have been a touch more circumspect against the notoriously erratic Maldonado in Valencia.
Be that as it may, it is the only mistake one can lay at Hamilton's door in a season in which he has been driving impeccably - of his rivals, only Alonso can claim to be performing at a consistently higher level.
Yet, largely through no fault of his own, Hamilton is 47 points behind Alonso. That is a margin that will not be easy to make up even with a faster car, with the Spaniard driving as well as he is.
For Alonso, Hungary was a race of damage limitation - and despite finishing only fifth he managed it to the extent that his lead over second-placed Mark Webber of Red Bull is now six points bigger than it was on Sunday morning.
Alonso did lose some ground to Hamilton, Raikkonen and Sebastian Vettel, but he will with good reason leave Hungary and head in to F1's summer break well satisfied with what he has achieved so far in 2012.
Ahead of the Hungarian race, on the back of two wins and a second place for Alonso, rival teams have been growing a little tired of the constant insistence by Alonso and Ferrari that they did not have an especially fast car.
But Hungary proved Alonso's point - in a straightforward dry qualifying session and race, they are a long way from setting the pace. Ferrari are well aware that even Alonso driving this well needs more help if he is to hold on to his lead.
That slight impatience with Ferrari was one of the more minor examples of what was a tense weekend in Budapest.
Far more serious has been the growing impatience of the other top teams with Red Bull's constant run-ins with F1's legislators.
Once you might see as an accident, twice perhaps unfortunate, but the latest row to brew up over the weekend was the fourth example of Red Bull pushing the technical rules to the limit this year.
Rivals are unhappy with both Red Bull's behaviour and the way in which the FIA are policing the rules.
The revelation in Hungary that Red Bull were asked last month to remove a device that theoretically allowed them to illegally adjust their front suspension by hand - which the team insist they never did - follows hot on the heels of the row over engine mapping in Germany a week ago.
That prompted a rule change ahead of the Hungarian race. Red Bull insisted it would have no significant effect on them, but their pace was always going to be watched closely.
They were slower in qualifying than they might have been expected to be at a track which should suit their car, but the way the race panned out it was hard to make a definitive judgement on their pace. However, their best laps and sector times suggested the Red Bull was indeed the fastest car on the track in the race.
To prove it definitively, they will have to wait, for F1 now embarks on its mid-season break, when all teams have to down tools for two weeks, before getting back hard on it for the remainder of the month-long gap before the next race.
It is a break that many in F1 feel they need after a demanding first 11 races, and the remaining nine promise to be even more intense.
When F1 reconvenes at Spa in Belgium at the very end of August, almost everyone involved has a point to prove.
Despite Alonso's handsome lead, this championship remains very much alive.