Hungarian GP: Red Bull deny breaking rule over suspension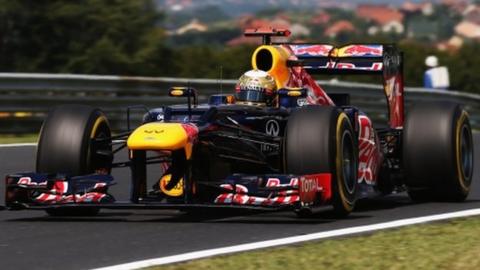 Red Bull have dismissed as a "non-issue" the latest in a series of controversies to engulf the team.
It has emerged that at June's Canadian GP, governing body the FIA asked Red Bull to modify its front suspension.
The FIA found it could be changed by hand when rules say it must be done with tools. Changes are banned between qualifying and race.
Boss Christian Horner said: "We never changed the ride height in parc ferme. It is a non-issue."
Asked why the suspension could be changed by hand when the rules state specifically that must not be possible, Horner, Red Bull's team principal, said: "There are a lot of parts that are changed manually on the car, but a tool was used. The suspension has never been changed once it's in parc ferme. Never.
"Honestly, it's completely trivial.
"Basically what was on the car in Canada has been on [the car] at a lot of other races as well, and at no point has it been adjusted in parc ferme.
"It is a question of whether you do it with a tool or manually, and it is done with a tool."
Article 34.5 of the Sporting Regulations states: "In order that the scrutineers may be completely satisfied that no alterations have been made to the suspension systems or aerodynamic configuration of the car (with the exception of the front wing) whilst in post qualifying parc ferme, it must be clear from physical inspection that changes cannot be made without the use of tools."
If a team could find a way to change the suspension settings between qualifying and race without being discovered, it would give them a significant advantage.
Cars have to be run higher than is ideal in qualifying, because a race fuel load weighs them down and they would otherwise break rules dictating that an underbody wooden 'plank' - which is there to prevent cars running too low - must not wear down by more than 1mm in the course of the race.
Running cars lower improves their aerodynamics and makes them faster around corners.
So being able to adjust the ride-height would make them faster in qualifying while still allowing a team to raise them for the race to ensure the 'plank' is legal by the end of the race.
The suspension controversy follows the FIA's decision to change the rules on engine mapping ahead of this weekend's Hungarian Grand Prix to prevent Red Bull modifying theirs to give an advantage on cornering and tyre wear.
Red Bull were reported to the stewards by the FIA at the German Grand Prix last weekend but were allowed to race because they were found not to have broken the letter of the rules.
But as their actions were against the intention of the rules, the FIA made a change on Wednesday.
There have been two earlier technical controversies surrounding Red Bull this year.
They were forced to modify holes in their floor which they ran in the Bahrain, Spanish and Monaco Grands Prix - two of which they won - after the FIA said they contravened regulations.
Also in Canada, the FIA made Red Bull close off holes that ran through their wheels on the grounds that they were a moveable aerodynamic device, which are banned.
Horner played down the string of problems surrounding his team.
"I think it is the consequence of being competitive," he said, "when others are complaining [about] the reason the car is quick, and that is the case here."
Hungarian Grand Prix 2012, day three
Sunday, 29 July:

Race 12:45 BST; BBC Sport website live text and audio commentary and BBC Radio 5 live sports extra & Race highlights 19:00 BST BBC One/BBC HD/online.