British GP: Silverstone were helpless - Ecclestone

By Andrew Benson
Chief F1 writer at Silverstone
Last updated on .From the section Formula 1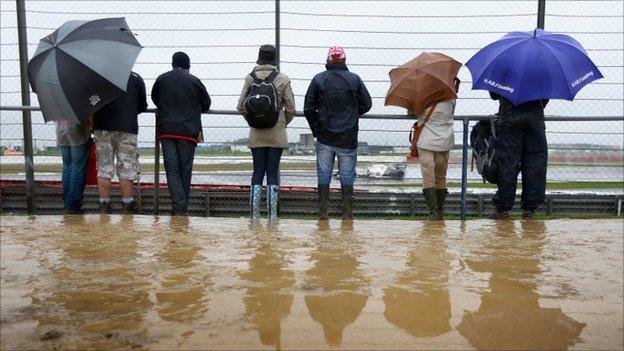 Formula 1 boss Bernie Ecclestone says Silverstone was helpless in the face of the wet weather that led to huge traffic delays at the British Grand Prix.
Ecclestone said it would be wrong to blame the race organisers for a problem caused when rain flooded unofficial campsites.
"I'm really, really upset for the fans, but in reality if it was you running the race what would you do?" Ecclestone said.
"For the people of Silverstone, what could they have done? They probably couldn't predict the rain."
Ecclestone has been a vociferous critic of Silverstone in the past, but since the track signed a 17-year British Grand Prix contract at the end of 2009 it has embarked on a programme of improvements to meet his exacting standards.
A new pit building and paddock has been created, and the track's bosses are currently trying to raise the money for the second phase of the redevelopment.
But the traffic jams on Friday brought back uncomfortable memories of Silverstone's past - particularly the wet weekend in 2000, when the race was held in April and rain caused traffic chaos.
Improvements to access roads following that event had seemed to solve the problem - until Friday, when people being turned away from campsites caused logjams on the roads.
Fans trying to get into the track were delayed for hours - in one example, a McLaren sponsor left Northampton at 10 in the morning and did not get into the track until six in the evening.
But Ecclestone, who on Friday was told not to come as he was about to set off for the track, said the problems had not surprised him.
He told BBC Sport: "Apparently from what I hear there are a lot of camping sites everywhere that shouldn't be there that let people park.
"Because they were under water, the people arrived that had paid to park, drove around and that's what caused all the trouble with the traffic jams."
He added: "Honestly I don't think anyone expected the amount of rain we had.
"You might as well say why didn't the council in all these different places throughout England do something, because I looked on the TV and saw the places flooded, the houses flooded, shops flooded, people abandoning cars. I didn't expect to see that either."
Silverstone asked up to 30,000 spectators with public car parking tickets not to come to watch qualifying on Saturday in the hope of giving the car parks time to recover before Sunday's race. They have since announced that all fans with tickets are being encouraged to make the journey for Sunday.
There were still delays on Saturday morning, but not as bad as there had been on Friday.