British Grand Prix: 30,000 fans asked to avoid Silverstone
Last updated on .From the section Formula 1182
Fans have been turned away from the British Grand Prix qualifying as up to 30,000 ticket holders were urged not to attend due to muddy conditions.
Car parks at Silverstone became unusable after heavy rainfall and all available spaces for Saturday's racing were full by 09:00 BST.
Silverstone officials thanked fans who stayed away on Saturday.
Managing director Richard Phillips said they now had a chance of operating the car parks for Sunday's race.
Officials closed 50% of the circuit's parking on Saturday in an attempt to allow it to dry out. Up to 125,000 fans are expected for the race on Sunday.
Earlier, Phillips had appealed for ticket holders to remain at home and miss qualifying after conditions meant thousands of frustrated Formula One fans were left queuing in their cars for hours on Friday, missing practice sessions.
The final hour-long practice session on Saturday took place in the dry before rain arrived just as it drew to a close. More rain is expected overnight on Saturday.
Katie Tyler, Silverstone spokeswoman, told BBC Radio 5 liveWeekend Breakfast ticket holders who miss out would be refunded.
As parking spaces filled up early ahead of Saturday's racing, she said: "All public car parks are now full and in the interests of safety we have turned people away.
"We need to be more prepared for British summers in future," added Tyler, who said a decision would be taken later in the day whether to allow fans into public car parks on Sunday."
On Friday, McLaren driver Jenson Button had debated whether the Grand Prix should take place at all after describing conditions as "scary" and "treacherous".
But after turning up at the circuit on Saturday, Button tweeted: "Morning from a DRY Silverstone! Think it'll be a little wet later though! Thanks everyone for braving the rain yesterday to support us."
Other drivers found it tough going getting to Silverstone.
Marussia driver Timo Glock tweeted: "Right choice to stay in my motorhome which makes it very easy for me to be on time! Massive traffic again."
And Sauber's Sergio Perez added on Twitter: "Very bad traffic to get into the circuit!! And they close one line, not a good idea."
McLaren's Lewis Hamilton admitted he had been concerned for fans who attended the circuit on Friday.
"I really appreciate their support, having them here, so I hope they can keep warm. Stay strong because hopefully it's going to be a good weekend," he said.
"It must have been a bit boring for them sitting there and not seeing people go round."
Phillips said he "unreservedly" apologised to fans, adding: "The situation is that we want to try to recover things for Sunday and that's the most important thing for us at the moment.
"We'll do our damnedest to make sure it [Sunday's Grand Prix] happens."
The financial hit from the chaos generated by the weather is expected to run into seven figures and turn a potential profit into a loss.
But worse is the damage again to Silverstone's reputation given what happened in 2000 when heavy rain turned car parks into mudbaths.
"There will be 20,000 to 30,000 people today we won't be able to properly cater for," said Phillips.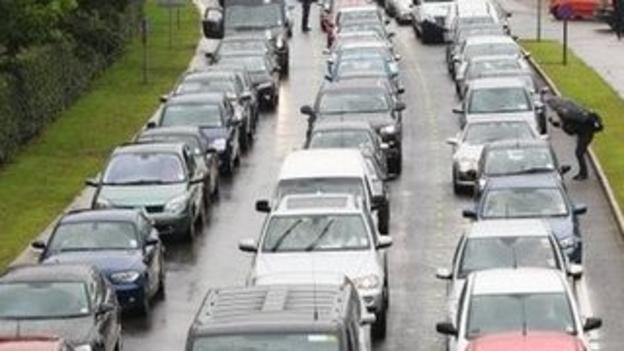 "It's going to cost us a lot of money. I honestly don't know the figure, but it could be a lot more than hundreds of thousands [of pounds].
"Right now we're trying to get ourselves into a situation to get in as many people as we can from a position of devastation.
"But I unreservedly apologise to people. I feel very responsible for it. This is something I've been very proud of over the years and I almost could cry now."
On Friday, queues stretching for miles formed as traffic, heading to two practice sessions, backed up because of waterlogged car parks.
A Silverstone hotline has been set up for those affected: 0844 372 8300