Could Webber's driving ambition take him to Ferrari?

By Andrew Benson
Chief F1 writer
Last updated on .From the section Formula 1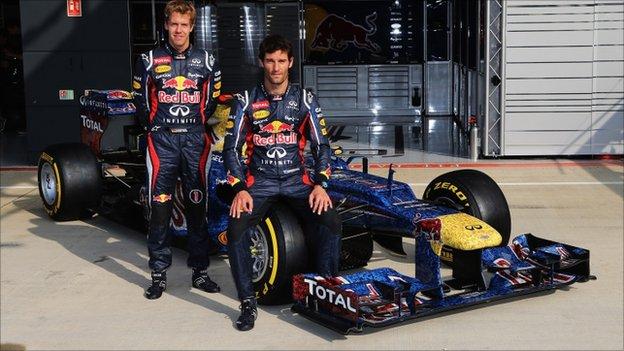 For Lewis Hamilton, Jenson Button and Paul di Resta, this weekend's British Grand Prix gives them the chance to race in front of their home fans.
But while all three have talked passionately and genuinely of their love for Silverstone, their country's Formula 1 race and the pleasure they derive from racing in front of more than 100,000 people cheering them on, Britain is no longer 'home' for any of them.
Like so many grand prix drivers, they all live in Monaco, taking advantage of the better weather and, of course, the rather more lax tax regime.
Ironically, the one driver for whom Silverstone is literally a home race is the man who hails from further away than anyone else on the grid.
Red Bull's Mark Webber grew up in Queanbeyan near Canberra in Australia, but has lived for several years now no more than half an hour's drive from Silverstone in rural Buckinghamshire.
It is an unconventional choice for a leading, multimillionaire F1 driver but Webber views it in the same no-nonsense manner in which he goes about all his life.
"The location has worked for me - us," he says in his signature matter-of-fact style, before going on to clarify that "us" means himself, partner Ann Neal and the handful of family members and employees they keep close and who help run Webber's affairs.
Many other F1 drivers blame the British weather for their decision to move away - it makes it harder to do the intense physical training required for the job, they say.
Webber, despite being a proud Australian, simply points out that the Queanbeyan weather wasn't always that great either. He now has a house on the sunshine coast of Queensland.
"There were certain points in my career when we were close to having a look at maybe living somewhere else," he adds, "but training-wise I just make it work here and have done for quite a long time. Not going to go somewhere else now."
Webber was talking in a revealing BBC interview to be broadcast on BBC One as part of the build-up to qualifying on Saturday.
Silverstone has always been one of his favourite circuits - he has won there in Formula Ford, Formula 3000, sportscars and F1 - and living where he does gives one of the least affected international sportsmen you could ever meet an added reason to look forward to this weekend.
"Being able to stay at home is a little bonus," Webber says. "Hotels - we do more than enough of that."
Webber is working up to getting a flying licence and will commute to work this weekend by helicopter when the weather is good enough, and by his usual back route by road otherwise.
Like his rivals, Webber admires the British fans, not only for the stoicism with which they flock to Silverstone whatever the weather, but also for their love for and knowledge of F1.
"Even talking to someone like Sebastian [Vettel, Webber's team-mate], who's from another country, he says you can see it's obvious the British fans are just very passionate about their Formula 1," Webber says.
"They might have a slight inkling towards other drivers about who they support but they're incredibly knowledgeable - up with the Japanese. There's been so much history here, right back to [Lotus founder] Colin Chapman and [F1 legend] Jimmy Clark. Generations of families; they all follow F1."
Another reason for Webber to set up home where he has is its proximity to the Red Bull factory. He has driven for a team at that site in Milton Keynes for most of his career - when it was Jaguar in 2003-4, and Red Bull since 2007.
Thirty-six this summer, Webber has been on a rolling one-year contract for some time, and he admits that the time for a decision on next year is "getting closer".
As Webber puts its himself, he is "driving well", he and Vettel have been evenly matched since August last year - as they were in 2010 - and Webber has made it clear all year that he is fully committed to racing on into 2013 and possibly beyond.
There has been friction between Webber, Vettel and the Red Bull hierarchy from time to time over the years, largely because the German is clearly their favoured driver, and it has boiled over at Silverstone in both the last two seasons.
With Webber ahead of Vettel in the championship heading into this race, there seems less chance of the team imposing team orders, as they have in one way or another in both of the last two British Grands Prix.
In any case, the relationship seems more harmonious this year. "As a whole team we have continued to learn from those situations," Webber says, "and so far this year it has been very good racing between the pair of us."
Team boss Christian Horner has hinted that he sees no reason to change his driver line-up, but from Webber's side it seems less clear. He is right at the heart of the driver market 'silly season' this summer, with strong - but unsubstantiated - rumours suggesting he may join his friend Fernando Alonso at Ferrari in 2013.
Webber admits in the interview with BBC F1 pit-lane reporter Lee McKenzie that he has been talking to other teams, but adds: "It's been pretty light, and even at Red Bull it's not a foregone conclusion in terms of what's going on there."
And of Alonso, who is one of the drivers with whom he gets on best, he says: "Fernando and I have known each other for over 10 years. We have gone from boys to men in that time.
"I know Fernando reasonably well; I wouldn't say extremely well. But there's one thing being pretty close as non-team-mates, and then the dynamics of being team-mates is a little bit different.
"I've never seen any team-mates get on like a house on fire in over 30 years of F1. It doesn't happen. It's that ego thing - we drivers are all a bit precious and it all kicks off. Let's see. Fernando is someone I know well but socially we don't do a huge amount together."
Webber's future is tied in with those of McLaren's Lewis Hamilton and Mercedes' Michael Schumacher, and possibly Di Resta, too.
Will Hamilton stay at McLaren, respond to rumoured overtures from Mercedes, or push for a seat at Red Bull?
Will Schumacher - who is 44 in January - want to continue? And even if he does will Mercedes want him, or prefer Hamilton or Di Resta?
Will Webber stay at Red Bull for at least another year, or does he fancy ending his career at the most famous team of all, alongside the driver he clearly believes is the best in the world?
Or will Ferrari continue with Felipe Massa for another year while they wait for the potential arrival of Vettel in 2014 - for when the German, impeccable sources close to Ferrari say, has a non-binding pre-contract with the team?
Webber is playing his cards close to his chest. "I've made the decision I want to carry on," he says. "I'm motivated and hungry. Now I have to go and find some work."