British GP: Paul di Resta hungry for more success
By Lawrence Barretto
BBC Sport at Silverstone
Last updated on .From the section Formula 1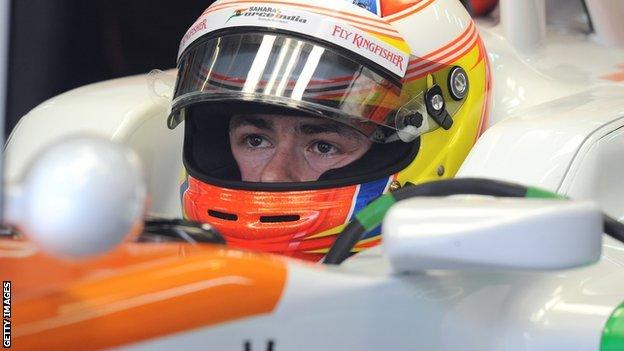 While McLaren's Lewis Hamilton and Jenson Button hog the British limelight, their countryman Paul di Resta has been quietly making a name for himself further down the grid.
The 26-year-old Scot, who drives for midfield team Force India, had a hugely impressive debut season in 2011, regularly challenging his more experienced team-mate Adrian Sutil and achieving a best result of sixth.
This year has been even better, with the Scot scoring the same number of points after eight races as he achieved in the whole of last season - and he is also leading his team-mate Nico Hulkenberg in the standings.
But despite that impressive record, Di Resta is still not content.
"I've definitely been more successful than last year," Di Resta told BBC Sport. "But I'd like to be greedy. I want more and I'm pushing with the team to achieve the best that I can. We're in a strong position, we just need to maximise our car."
If there is one season where cutting out the mistakes is important, it is this one. Seven different winners in the first eight races has opened the door for less-fancied teams to at least get a taste of success.
Take former champions Williams, who had one of the worst seasons in their history in 2011, finishing ninth out of 12 teams.
They have turned it around in 2012 and helped Pastor Maldonado win his maiden race at the Spanish Grand Prix - the team's first victory since 2004.
Meanwhile, perennial midfield outfit Sauber have already scored two podiums this season, courtesy of Sergio Perez. The team that does the best job, with the fewest mistakes, gets the reward.
At the European Grand Prix in Valencia, Force India showed impressive pace on the Friday but failed to get it together in qualifying and, as a result, their race was compromised.
"It would be immature to let it frustrate you," said Di Resta. "You've got to stay positive. We've had great results like in Bahrain [where he equalled his best finish with sixth] - so if we get luck on our side, who knows what could happen."
Di Resta made a stunning debut at Silverstone last year, out-qualifying both home favourites Hamilton and Button on his way to sixth, and his form of late - he has finished ahead of Button in the past three races - suggests he will be right in the mix again.
"We've outraced Jenson in the last few races which is encouraging so hopefully we'll have a chance of doing that again here," said Di Resta. "We've just got to cut out the mistakes."
The 26-year-old has yet to taste victory, but when it does come, Di Resta knows where he wants it to be.
"Silverstone," he said. "This is the one I want. It would be the icing on the cake. People talk about Monaco and Monza but I'm British and this is the one I want to conquer.
"The drivers' parade is electric. It sent shivers through me last year. The support that we have is just incredible. Seeing people queuing up on a Tuesday before the race just to get into a campsite shows you how much it means. The passion in this country is tremendous."
Does he mind that Hamilton and Button always grab the headlines?
"No, it's not something I ever think about. Button and Hamilton are world champions and they drive for McLaren. What they've done is great for the sport," insisted Di Resta.
"It's a pleasure driving on the same grid as them, but when I'm fighting with them week in, week out, it'll be even better.
"I want to be winning races and championships but I'm contracted to Force India and I'm going to continue to do as much as I can with the package - we'll let the rest look after itself."
With the seats at Ferrari, Red Bull and Mercedes - a team he has a long-term association with having won the F3 Euro Series title with them in 2006 and the DTM title in 2010 - available in 2013, the move from supporting actor to main protagonist may not be too far away.