McLaren boss Michael not worried by Red Bull improvement

By Andrew Benson
Chief F1 writer
Last updated on .From the section Formula 1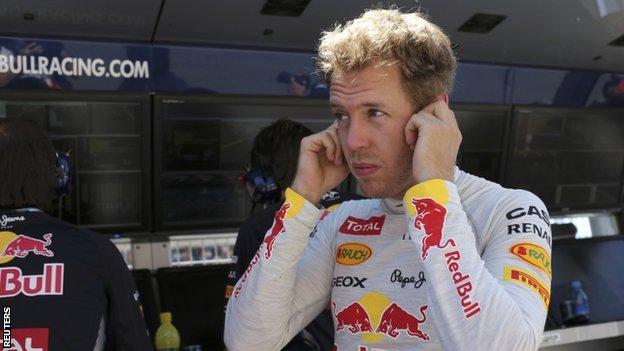 McLaren have played down the step forward in performance achieved by Red Bull at the last race in Valencia.
Red Bull's display followed the introduction of a major redesign at the rear of the car.
McLaren sporting director Sam Michael said: "They did take a step forward but I don't think it's as big as the pace Sebastian showed in the first stint."
Michael said he expected McLaren to show improved form at this weekend's British Grand Prix after struggling in Spain.
He feels the high-speed nature of the track will play to the strengths of the McLaren, which was comfortably the fastest car at the Spanish Grand Prix at Barcelona, a track that shares characteristics with Silverstone.
Hamilton was on pole by 0.6 seconds in Barcelona before being hit with a grid penalty because of an operational error by the team.
"If you look forward to Silverstone this weekend it definitely fits more in line with where the McLaren car's strengths are," Michael said.
"If we look back to Barcelona I think we were almost 0.6 seconds in front of them on the grid before we took the penalty, so looking at the type of track Silverstone is, we're hoping for a repeat of that.
"So ultimately, we have upgrades coming to Silverstone as well, as we do for every race.
"We target to bring at least a 10th, and we've achieved that throughout the year, and for Silverstone we've got more than that and that's come through a series of aerodynamic and suspension upgrades.
"So regardless of where Red Bull were in Valencia - and they were very strong - our target is to be on the front row and challenging for the win at Silverstone."
Red Bull have also traditionally been very strong at Silverstone - they won in 2009 and 2010 and were on the front row in 2011 before losing out to Ferrari's Fernando Alonso in the race.
That, combined with Vettel's Valencia form, has led to predictions that Vettel and Mark Webber might run away with the British Grand Prix.
But Michael explained that the performance advantage shown by Red Bull in Valencia cannot have all been down to the changes to the car's design.
"If you look at that pace it was a second a lap basically," he said, "and to find a second a lap in Formula 1 through changing some fairly secondary parts on the top surface of the floor, which is where we know they've changed, would be pretty impressive.
"When we arrive in Silverstone we'll find if that is the case but I'd be pretty surprised if they maintain a second a lap gap on the rest of the field.
"It was very impressive pace, but we've seen that throughout the year - if you get the tyres working properly and you fall into that [operating-temperature] window, then you can generate some enormous amounts of grip.
"We've seen that four or five times a year and Sebastian was definitely bang on the tyre window in that first stint. I think it's reflective of that rather than the car upgrade."
Michael said he was optimistic that Jenson Button, who has struggled in recent races compared to team-mate Lewis Hamilton, would show improved form at Silverstone.
And he added that the team had been working hard to ensure they did not suffer a repeat of the pit-stop problems that have plagued them in several races this season.
He said McLaren had introduced a lot of changes to their pit stop procedure this year in an attempt to improve their consistency and that "the nature of R&D is sometimes you get things wrong".
Their latest problem was a front-jack failure for Hamilton in Valencia, which cost him a position to Alonso, who went on to win the race.
"We believe we've solved it," Michael said, "but at least we've done good due diligence on the new design we've got for Silverstone so if we go there and have a fault we can say we did as much as we could, which is what we do in engineering."