British Grand Prix: Ferrari in good shape for Silverstone - Smedley

By Andrew Benson
Chief F1 writer
Last updated on .From the section Formula 1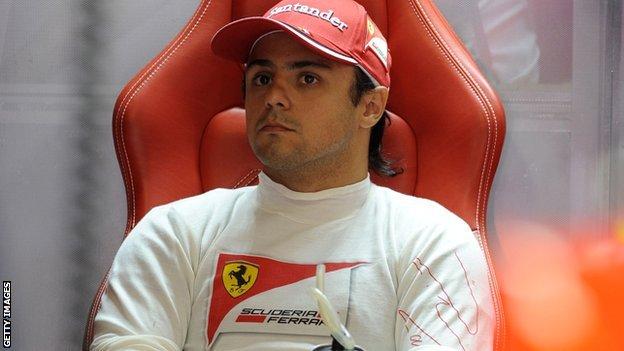 Ferrari believe they are in with "a good chance" of winning Sunday's British Grand Prix.
Their car should be well suited to the fast nature of the track, says Felipe Massa's race engineer Rob Smedley.
"Our chances are good, even if it's no secret we still need to develop and have a quicker car," he said.
"Our car has always been particularly suited to high-speed corners and Silverstone has high-speed turns for almost two-thirds of the track."
Ferrari driver Fernando Alonso is leading the championship by 20 points - almost a race win - after victory in the last race, the European Grand Prix in Valencia.
But the Ferrari has never been the fastest car this season, with the team starting the campaign more than a second off the pace before inching closer to the front with consistent development.
Alonso's position in the championship is down to what many in F1 believe to be the double world champion's finest season so far.
The 30-year-old Spaniard is the only driver to win more than one race - Valencia was his second victory of the season - and he has scored consistently elsewhere.
Alonso was fortunate to inherit victory in Valencia from Red Bull's Sebastian Vettel, who was dominating the race following a significant performance upgrade to his car before retiring with alternator failure.
Had he won, Vettel would be leading the championship, rather than Alonso.
Smedley said: "In Valencia we didn't have the quickest car, but compared to the start of the year, we had a much improved car, which is down to a great job from the whole team."
Massa has struggled this season compared with Alonso - the Brazilian has been out-qualified in every race and has scored only 11 points in the championship compared to Alonso's 111.
But Massa has shown signs of improved form in recent races and Smedley, who has worked with him at Ferrari for seven years, believes he is close to a breakthrough.
"Right now, going into Silverstone, there is very little that Felipe is lacking for him to be back where he was in terms of driving and confidence in the car," Smedley said.
"You need things to go your way and at the last race we didn't have that.
"Going back to Canada, he made a little mistake at the start, which changed everything, and in Monaco he was stuck in a train of traffic for 70 laps.
"However, in terms of his pace in those recent races and the way he was driving and his confidence, he is a different driver to the way he was at the start of the season.
"So, we are missing very little, maybe a tiny 1% to make it all start happening for us."